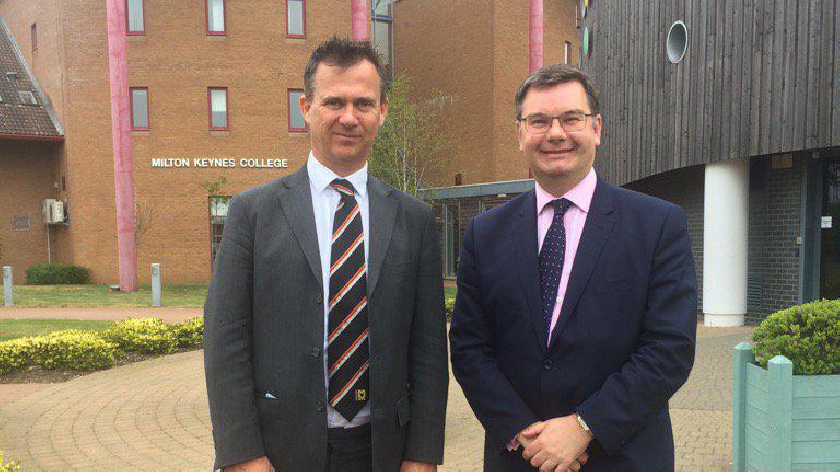 Milton Keynes Council has been criticised by local Conservatives for drawing up 'secret' plans to double the population of Milton Keynes in just 30 years.
Just two years ago the Milton Keynes 2050 report suggested a figure around 400,000 based on future economic and demographic demands, but it is claimed that the current Labour administration is pushing forward its plan to accelerate growth.
The plans are said to have been worked up by a 'just a few' Milton Keynes Council officers and the Leader of the Council. Plans were put to the Government suggesting there was wide support.
However, city MPs Mark Lancaster and Iain Stewart are furious they and the wider public were not consulted over such a big decision. Late last week they made their views known to the Housing Minister Kit Malthouse.
Milton Keynes North MP Mark Lancaster said: "I make no apologies for resisting Labour's secret plans to concrete over rural North Bucks, and now that I've had the opportunity to express my concerns to the Housing Minister I do not share Cllr Marland's confidence that he has the Ministers' support for this scale of development within our own borders. I am, however, happy to work the Council to deliver sustainable growth following our 'I before E' or infrastructure before expansion' model."
"Iain and I will always fight for more money, but we can't if we are kept in the dark. I look forward to receiving an invitation from the Leader of the Council to discuss this in more depth."
Milton Keynes South MP Iain Stewart said: "We have over 20,000 new houses already approved and waiting to be built. Surely the focus should be on building these properly before rushing ahead with such significant accelerated growth?"
"As ever Labour have got this the wrong way round. The focus should be on business development and new jobs, then decide the housing and infrastructure needs. Rushing a deal together in just a couple months, failing to take any stakeholders along on the journey, using the arbitrary population figure of 500k within our own borders, without any evidence to suggest that is the number we need is deeply concerning."
"I have long argued our future housing growth needs to be planned in the context of the Oxford-Cambridge as a whole; and we must work with our neighbours to develop a plan for the future."
Leader of the Conservative Group Cllr Alex Walker said: "There has long been a convention at Milton Keynes Council that on the big ticket items all parties will work together to achieve what is best for residents. Sadly, that seems to have been lost on this occasion."
"Such a big decision requires careful and detailed planning, importantly taking residents along the journey. This kind of accelerated growth will change MK beyond all recognition and will require far more than some new roads. What about hospital capacity, for example? What about all the homes neighbouring authorities are set to build too?"
"Let's get this right. As somebody still unable to get on the housing ladder, I know we need more housing and I know affordability is a real issue. But, I don't want us to just be a housing ghost town, with dozens of identical new estates."