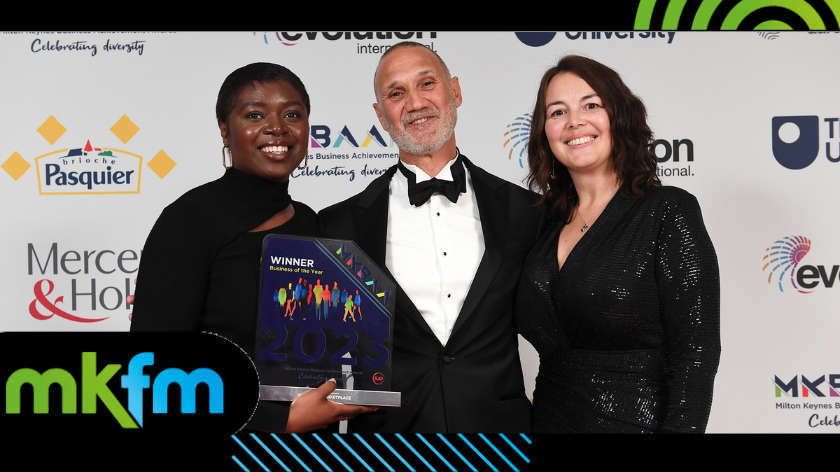 It comes as the awards prepares for its 10th anniversary celebration.
The theme of the 2024 Milton Keynes Business Achievement Awards (MKBAA) has been unveiled as Forever Innovative: Leading the UK's High-tech Future, in recognition of the city's thriving tech ecosystem.
Next year, MKBAA will also celebrate its 10th anniversary – a significant milestone for the highly sought-after awards which have grown in precedence since its launch in 2014.
This year's awards ceremony held at Stadium MK in March, drew the highest number of entries across all categories in its history – underpinning MKBAA's position as the region's premier annual celebration of business.
Synonymous with accurately echoing the ambitions and objectives of Milton Keynes through its annual themes - from sustainability through to recovery and diversity – MKBAA 2024 will be no different as it reflects on the city's status as a leading centre for technology and innovation.
Milton Keynes' technological prowess was recently highlighted in a report by Whitecap Consulting. One-third of all people in the city work in and around technology, while approximately one-fifth of the 12,675 businesses are technology related. GVA relating to technology equates to £3.4bn of Milton Keynes' £14.7bn total - higher than much larger cities including Birmingham, Leeds, and Manchester.
While the Milton Keynes Business Achievement Awards not only celebrate the successes of businesses across Milton Keynes, they also act to inspire others, while marking the journey the city is on and helping to pave the way for future growth.
"Milton Keynes has a strong and thriving tech sector that demonstrates pockets of exciting innovation," comments Nicholas Mann, Chair of the Milton Keynes Business Leaders Partnership, the organisers of MKBAA. "However, there is room for even further growth. We have a very real opportunity to become a dominate player in the UK's technology sector, but to do so we must continue to be characteristically bold and share in our successes and strengths. We want Milton Keynes to be on the lips of everyone in Silicon Valley when they are looking at a map of the UK, and where to place their next site."
"By choosing Forever Innovative: Leading the UK's High-tech Future as the theme for MKBAA 2024 we hope to play our part in this journey to success. Our tenth anniversary is set to make this event even bigger and better than its predecessors – we may even be heard in California!"
With three headline sponsors already onboard for MKBAA 2024; Milton Keynes City Council, The Open University and Brioche Pasquier UK, and many more businesses pledging their support, excitement around next year's awards is beginning to build.
The launch event to kick-start MKBAA 2024 is scheduled to be held on 14th September which will also mark the opening date for entries.
For further information about MKBAA please visit the website and keep up to date with all of the latest information by following on Twitter @mk_baa, Facebook and LinkedIn.