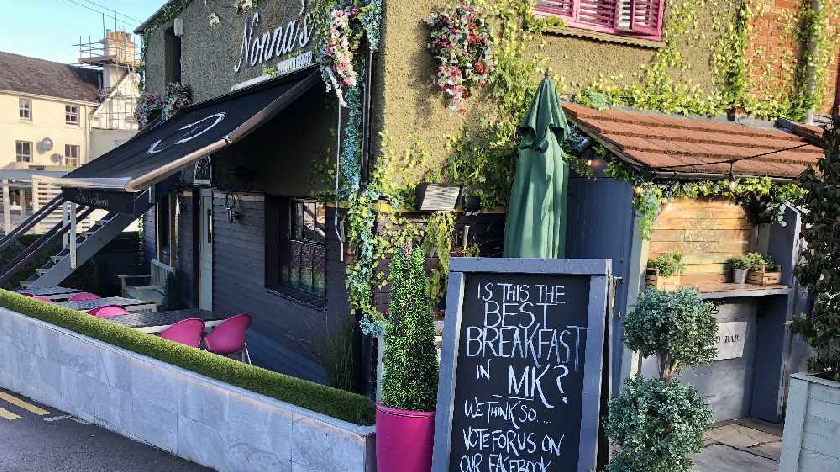 You picked 10 finalists, Darren and Lia from the MK Breakfast Show judged them.
In September, MKFM launched its quest to find Milton Keynes' Best Breakfast. Just under 1,000 votes were cast and there were 10 clear finalists.
Darren & Lia from the MK Breakfast Show jumped at the chance to judge the 10 finalists. Over the course of ten weeks they would visit all 10 restaurants and score their finest breakfast offerings.
Each finalist was put to test and scored on a number of factors including price, taste, service and presentation.
Judge Darren said, "There's a number of things that are important when I go out for breakfast. Sometimes you can be served the most amazing breakfast but then it's spoilt by the condiments. I'm talking cheap and nasty ketchup, margarine and awful tea. During our visits it was great to see the use of local produce and the care and attention that was taken by a number of the places we visited.''
Judge Lia adds, "Breakfast is one of my favourite meals but it can be tricky to make sure there is something for everybody. During our visits to the top 10, it was great to see a good choice of breakfasts including; vegetarian, vegan and alternative dishes like avocado and bubble and squeak!"
Out of the 10 finalists that were nominated by the public in Milton Keynes, 9 were independently owned. It's been great to see the support within the community for local businesses and the love shared around breakfast. Since our search began, many of the finalists told MKFM that they had seen new customers visiting them after making the finals.
So let's get down to business...
The overall winner of MK's Best Breakfast is:
Nonna's - The Square, Woburn Sands, Milton Keynes MK17 8S
Nonna's won because of it's attention to detail. From the handcrafted local sausages they serve to their award winning smoked black back bacon. From the moment you arrive at Nonna's in the heart of Woburn Sands and are warmly welcomed by one of their staff you know you are in for a treat. Nonna's extensive menu includes a selection of Classic Breakfasts, Breakfast Rolls, Breakfast pizzas, Nonna's Signature Breakfasts, a variety of eggs, something a bit healthier, plenty for little ones and even a Breakfast Specials Menu – you'll be sure to find something for everyone. There's a car park for customers and plenty of indoor and outdoor seating with a bustling brasserie for croissants, handcrafted Italian cakes and coffees that overlooks Woburn Sands High Street or a stylish restaurant area for larger parties. The atmosphere, service and food could not be faulted by the judges and would be the perfect breakfast treat for any special occasion.
It was very close between Nonna's and The Greedy Italian (79 Victoria Rd, Bletchley, Milton Keynes MK2 2NZ) who came very close to taking the top spot.
Something that was noted by the judges was the vast difference in prices between the 10 finalists. Both Nonna's and The Greedy Italian offer great value but as they are using local produce the price is at the higher end of the scale.
The Best Value Breakfast was The Giffard Park (Broadway Ave, Giffard Park, Milton Keynes MK14 5QN) their SIZZLING BREAKFAST served on a skillet included two quality pork sausages, two rashers of grilled back bacon, two fried free-range eggs , plus a grilled half tomato, a flat mushroom and Heinz baked beans. All of this was served on a bed of potato and onion hash with a choice of white or wholemeal toast and butter. Unlimited tea and coffee was available for just £1.40.
All 10 finalists deserved to be in the final and were rated as follows
The Gold Standard
WINNER - Nonna's - The Square, Woburn Sands, Milton Keynes MK17 8S
The Greedy Italian - 79 Victoria Rd, Bletchley, Milton Keynes MK2 2NZ
Silver (in no particular order) A must visit
The Giffard Park - Broadway Ave, Giffard Park, Milton Keynes MK14 5QN
The New Inn - 2 Bradwell Rd, New Bradwell, Milton Keynes MK13 0EN
Cafe Ole - Wolverton, Milton Keynes MK12 5FJ
Bronze (in no particular order)
All providing a great Breakfast
Mister Tea's Café - 36B Victoria Rd, Bletchley, Milton Keynes MK2 2NP
Muffins Coffee Shop - 8 Swinfens Yard, Stony Stratford, Milton Keynes MK11 1SY
Sunnyside Up Café - 42 Church St, Wolverton, Milton Keynes MK12 5JN
The View MK - Wolverton Rd, Great Linford, Milton Keynes MK14 5AH
Top Diner - 68 Queensway, Bletchley, Milton Keynes MK2 2SA
There will be detailed review on The MK Breakfast Show next week and posted online here https://www.mkfm.com/local/mks-best-breakfast/