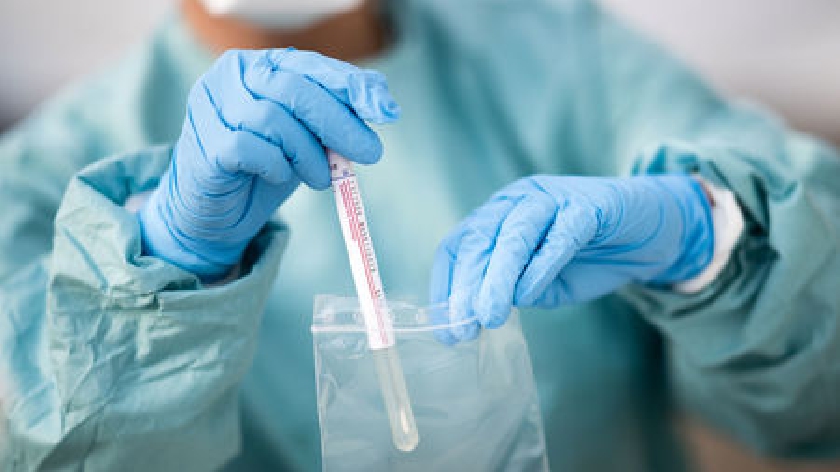 MKFM can reveal the low numbers of available COVID-19 swab tests at the Milton Keynes test centre as it seems the site was quiet once again today.
Yesterday, we shared photographs of a very empty looking test centre with barely any cars on site. This followed the news that hundreds of people in the area have struggled to book a coronavirus test, with some reporting they had to travel to the West Midlands to get tested.
MKFM has since been contacted by a whistle-blower from the test centre who says that the number of tests being carried out has dramatically decreased in the past week.
Last Tuesday (8/9), 122 tests were administered at the Central Milton Keynes-based site compared to just 42 tests on Sunday (13/9). Before the shortage, over 500 tests were being carried out per day which is a stark contrast to the current average of between 40-50 per day.
It can also be revealed that there is currently far more staff on-site at the test centre than tests being carried out, often leaving staff sat around for periods waiting for the next car to arrive.
An MKFM reporter visited the test centre once again today (15/9) and discovered that there was not one single car at the test centre which contrasts the overwhelming demand the centre faced a couple of months ago.
When questioned about this, a Department of Health and Social Care spokesperson said: "NHS Test and Trace is working, our capacity is the highest it has ever been and but we are seeing a significant demand for tests. New booking slots and home testing kits are made available daily for people with symptoms and we are targeting testing capacity at the areas that need it most, including those where there is an outbreak, and prioritising at-risk groups.
"Our laboratories are processing more than a million tests a week and we recently announced new facilities and technology to process results even faster. If you do not have symptoms and are not eligible to get a test you can continue to protect yourself if you wash your hands, wear a face covering and follow social distancing rules."
With the news that people are travelling hundreds of miles at a bid to get a test, the Government has said that "improvements are being made" by allocating regional testing slots to ensure the distance limit does not go beyond 75 miles.
The Government is also working to increase the number of testing sites to 500 by the end of October, with another three sites set to open in Milton Keynes. Plans regarding the new centres were submitted to the Department of Health on August 27th, but Milton Keynes Council has had "no contact since" as of last Thursday (10/9).
Leader of Milton Keynes Council, Cllr Pete Marland, wrote to the Secretary of State Matt Hancock last week asking him to "expedite" the new local testing centres for approval.
Cllr Marland said: "In that time access to the regional testing facility located within the borough has become patchy and local people are being denied testing, or being asked to journey long distances, some with children.
"The local centres would improve our local response and reduce local demand on the regional testing centre.
"In order to combat a rise in cases we must be able to offer quick and effective local testing, and our Milton Keynes Covid-19 Action Plan, which is agreed across all local partners, seeks to act before significant local issues arise.
"A delay in these centres and a total lack of communication despite our efforts is deeply unhelpful."
READ MORE: MK Council have had 'no contact' from government in relation to new local coronavirus test site plans