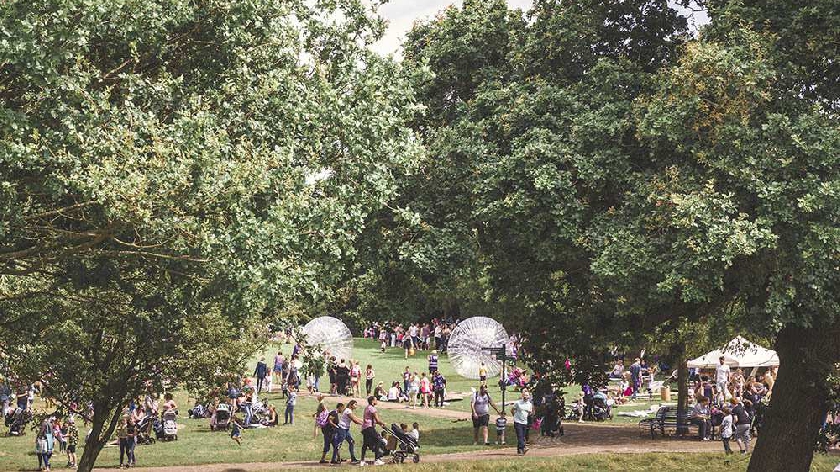 As another year passes and we look forward to Christmas and the start of a New Year, The Parks Trust have taken a look back at their highlights over the past 12 months.
The Parks Trust expert teams have been busy this year looking after over 6,000 acres of parkland across the city. This year they've planted 40,000 bulbs, made 1,230 hay bales to feed to sheep and cattle and planted 32,000 trees and shrubs.
They've also seen approximately 6,000 individuals take part in one of their outdoor learning sessions such as Tree Tots at Howe Park Wood and Habitat investigation across our parks. They worked directly with over 50 community groups on projects, events and initiatives linked to the use of our parks and have supported 18 fundraising events within our parks.
David Foster, Chief Executive of The Parks Trust said: 'Looking back on this year I am struck by how many people and organisations have engaged with the Trust. Whether that's our park visitors, the tenants of our commercial properties, boat owners at our new marina, our volunteer programmes, or our community events. I am proud we have continued to keep up high standards of care and maintenance of the parks, lakes, woods and landscapes of Milton Keynes and we look forward to more exciting plans for 2020.'
Take a look at their Top 10 Highlights from 2019:
This year we hosted a total of 525 Events & Activities in our parks. We welcomed back old favourites such as Big Doggie Do plus added new events including Pride:MK, India Day:MK and Green Fest.

Willen Lake was very popular this year with over 5,000 people being instructed in watersport courses, 34,000 children enjoying Splash 'n' Play, over 8,000 adventurers completing our Treetop Extreme high ropes course and hosting the sold out event Friendsfest which saw 20,000 people visit the lake over the 10 day period.

We worked in partnership with local organisations to host MK Playday which returned after having a year off in 2018 and welcomed over 8,000 people to Campbell Park to enjoy a day of free play and activities.

2019 marked the 10th edition of MK Walking Festival. In the 10 years the festival has been running we have seen over 2,200 people participate in a MK Walking Festival walk.

The Parks Trust again received a Green Flag award for 2019/20 and continues to be the only recipient of the award for a complete network of parks across a whole town or city. This year Milton Keynes was one of 80 nominated areas for The Ramblers 'Britain's Best Walking Neighbourhood'. After a month of public voting, our city was shortlisted within the top ten most walkable urban areas across England, Scotland and Wales, finally receiving third place.

In 2019 we were excited to rediscover both harvest mice and water voles, two nationally scarce mammals on our land.

We're grateful to have the support of over 200 volunteers, who this year have given us 6,450 hours of their time. They help us in many different ways including undertaking practical work, patrolling our parks and helping us deliver our events.

In May of this year we opened Campbell Wharf Marina, which has 111 berths and is currently occupied by 94 boat owners. The marina is purpose-built and situated on the Grand Union Canal in the heart of the city.

We developed an off-road cyclocross track in Campbell Park which was voted most popular of the series by participants. The track is intended for all riders with Mountain, Cyclo-cross or Gravel bikes and has been created to not be too technical although there are some steep gradients with riders climbing to 85m per lap!

Willen Lake, Milton Keynes' most popular park has successfully secured planning permission for its next phase of improvements. The new plans include; a purpose- built centre for all watersport activities with modern changing rooms, showers and additional public toilets. They will also include a new café/restaurant offering indoor and al fresco dining, overlooking the lake.
Take a look at The Parks Trust 2020 What's On Guide to find out what we have planned for the New Year! The guide can be picked up from The Parks Trust's office in Campbell Park or their education centres at Linford Lakes Nature Reserve and Howe Park Wood as well as the Milton Keynes Visitor Centre.
If you would like copies for your local group or organisation, please contact The Parks Trust on 01908 233600 or info@theparkstrust.com