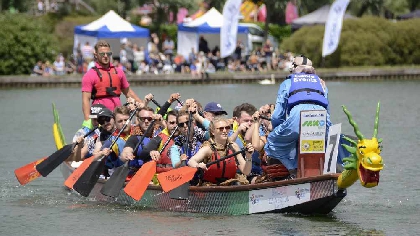 If the annual University Boat Race has inspired you to take to the water and try something different this summer, why not get some colleagues/friends together and enter a team in the 17th Milton Keynes Dragon Boat Festival?
The Milton Keynes Dragon Boat Festival, in aid of new charity partner MacIntyre, has become one of the biggest corporate team events in the region and there's plenty of time to get a crew together and guarantee a place on the start line at Willen Lake on Saturday 23rd June.
You don't need the physique of Sir Steve Redgrave or Dame Katherine Grainger to be successful as dragon boat racing caters for people of all shapes, sizes and levels of fitness. No previous experience is required to take part, just plenty of team spirit and enthusiasm!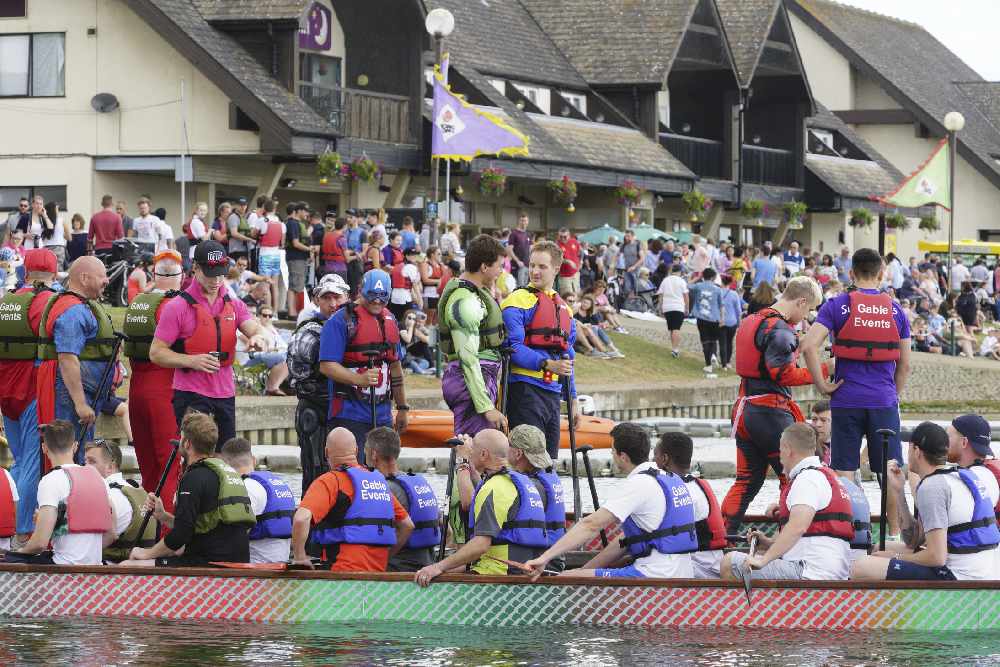 Under the expert guidance of a qualified helm, provided by organisers Gable Events, your crew of up to 17 people will soon be paddling in time and bonding together as you race towards the finish line over the 200m race course. Each team gets three attempts to improve their race times with everyone having an equal chance of reaching the semi-finals. Of 49 crews last year, two out of the four top-placed teams were first-time entrants in to the Festival including eventual winners 'Aero Tec Pirates' representing ATL Ltd.
Based in Kiln Farm, Milton Keynes, 'Calverton Capsizers' representing Calverton Finance are regular entrants and crew manager Tasha Cox explains why the Dragon Boat Festival is the first event to go into the staff calendar every year, "We were first introduced to the Festival by a key client of ours six years ago and since then we have been hooked! We always enter the Gold membership where a donation of £750 goes straight to the Festival charity. Our employees, friends and family get excited for this time of the year and, being as competitive as we are, we look to better our scores each time. Our 'buzz' for the race starts as soon as we sign up for the event and is a great talking point with many prospective clients. We do not have any hierarchy within Calverton and everyone gets involved including our company directors!"
All the entered teams this year are being encouraged to raise sponsorship for MacIntyre, a national charity based in Milton Keynes that supports over 1,200 children, young people and adults who have a learning disability or autism. As well as raising vital funds, the Dragon Boat Festival, supported by MKFM and Business MK, will provide the charity with an opportunity to raise its profile within the corporate sector and the wider community. The top fundraisers for MacIntyre will win the Charity trophy plus a special prize meal, sponsored by Merinvest, at highly rated Melis Restaurant in Central Milton Keynes.
MacIntyre's Head of Fundraising, Claire Kennedy, adds, "Having been involved in previous years, we know what a fantastic event this is for everyone who takes part and their families and friends. Every penny raised will be used to benefit the people we support in the Milton Keynes area".
For further information and an entry form visit: www.dragonboatfestivals.co.uk/miltonkeynes or call Gable Events on 01780 470 718. For information about MacIntyre, visit www.macintyrecharity.org or call 01908 230100