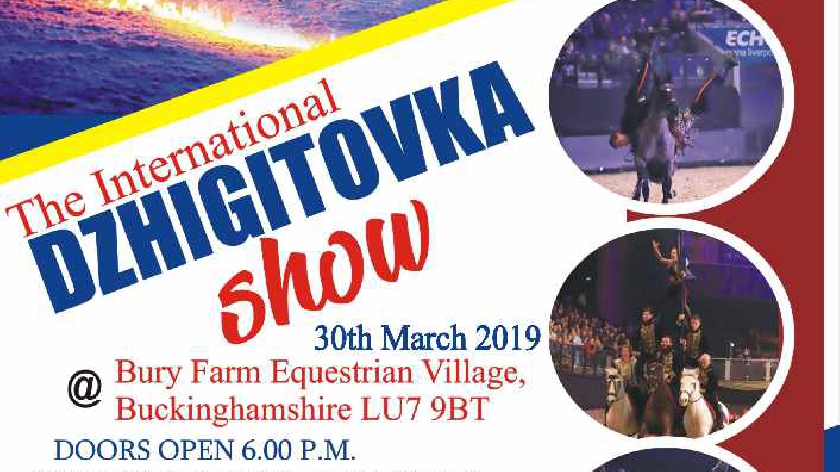 The show comes on Saturday 30th March.
Bury Farm Equestrian Village is delighted to be hosting a breathtaking show created with super experienced and talented Andalucian Performance Horses and champion sportsmen from around the world performing the skills of Cossack Riders.
With beautiful costuming and outstanding skills, this collaboration of international competitors features the Dzhigitovka World Champions of 2017 and 2018, Konstantin Zaskalov and Sergei Murugov and Champion Polish Horseback Archer Ana Sok. They stunned crowds at the Chatsworth Country Fair and Theraplate UK Liverpool International Horse Show last year, and now this superb collaboration of nations is back in a special one off spectacular at the prestigious Bury Farm Equestrian Village

In addition, the International Dzhigitovka Show is pleased to present performances from International Dressage Trainer Peter Maddison-Greenwell, the UK's foremost authority on Classical Dressage, and first class Parelli performances from Sean Coleman and Mia Rodley

An informative, beautiful and unbelievable evening of spectacular performance awaits you!

Grandstand Tickets are on sale now for only £27 per person. Simply visit the Bury Farm Equestrian Village website and find the link to the March 30th show on the Events tab to buy your tickets online. Any tickets purchased will be available for collection at the Village on the evening of the show.
When: Saturday 30th March. Doors Open 17.30, Show Starts 19.00
Venue: Bury Farm Equestrian Village, Mill Road, Slapton, Bucks, LU7 9BT
Website: http://www.buryfarmequestrianvillage.co.uk
Tel: 01525 222114.