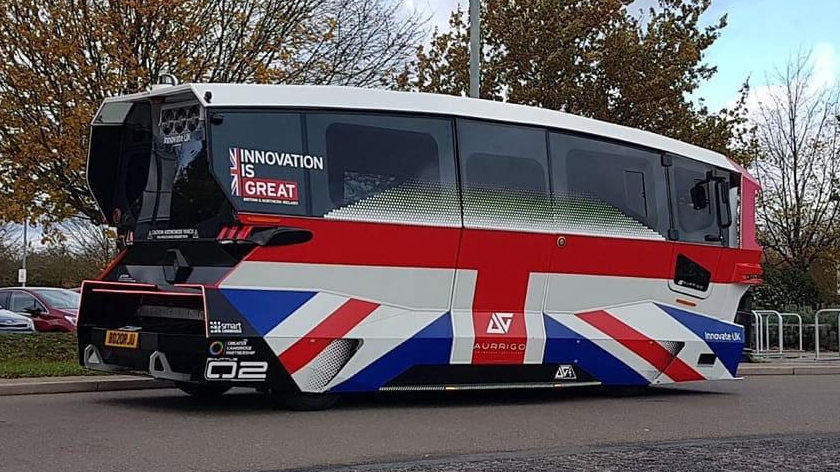 Details have been revealed of a new 10-seater self-driving bus which is set to come to Milton Keynes as part of the 'MK 5G Create' project.
MKFM revealed last week that Stadium MK will be hosting a government-funded 5G trial, including the introduction of driverless taxis and robots.
And now Coventry-based autonomous vehicle specialist Aurrigo have revealed details of their new self-driving 'bus' which will be part of the project.
The ten-seater shuttle will run between Stadium MK and Bletchley Railway Station providing convenient travel for people visiting the stadium for sports and events.
Aurrigo will also operate two other self-driving 'pods' which will operate around the MK1 retail park perimeter.
One of these will be a 'word-first' driverless security pod, equipped with a tethered drone patrolling and streaming CCTV footage over 5G direct to the security centre.
"This is another very exciting chance for Aurrigo to deploy our expertise here in the UK, showcasing our autonomous technology and allowing us to engage with the wider public" explained Simon Brewerton, Chief Technical Officer at Aurrigo."
"We have a fantastic opportunity with this project to integrate several cutting-edge technologies, including 5G cellular communications that allow guaranteed low data latency and available bandwidth, even when the stadium and retail park are bustling on match days."
"5G allows data from our autonomous vehicles to be monitored remotely in real-time and enables safe and secure communications between multiple vehicles and the central control room, as well as direct communications with each other."
"All of the vehicles are being manufactured in our state-of-the-art engineering centre in Coventry and we will have a dedicated team of 15 people producing them and then operating them on site."
"It's great to be returning to Milton Keynes to showcase another type of autonomous transport in the form of our shuttles and how they can deliver an even more engaging rider experience through the power of 5G."
"There is also a lot of anticipation for the unmanned Security Pod that will provide protection and a 'constant eye' in the sky. This is a world first and it's great that we can potentially prove out a solution for businesses to improve and reduce their costs using automated security solutions."
Matt Warman, Minister for Digital Infrastructure, concluded: "5G is about so much more than faster mobile internet speeds, so we're investing millions to help some of Britain's brightest innovators explore the huge potential of the technology to improve and enrich our lives."
"The projects we've selected will demonstrate how the blistering speeds of 5G can put some rocket fuel in our economy and help businesses bounce back from the pandemic."