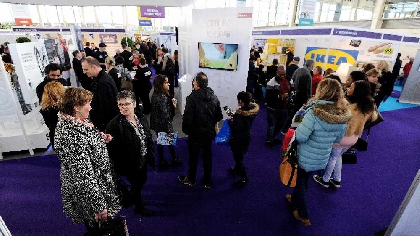 Thousands of job seekers are expected at the MK Job Show in Centre:mk on Friday 15th & Saturday 16 September 2017.
The organisers are expecting a very busy event as a recent survey indicated that 30% of people are unhappy at work and are actively looking for a better job.
Rather than waiting for an email from a prospective employer, take control of your career and become proactive and get yourself out there.
The best way of doing this is to attend the next MK Job Show.
You will be able to put your personality to your application by meeting many recruiters face to face all in one place.
Your approach and preparation for the MK Job Show could be the difference to landing your dream job.
Here are some tips for before, during and after the event.
Bring plenty of CVs
You never know what might spark your interest on the day, so if you plan to speak to ten companies, bring fifteen copies of your up to date CV.
Research the Companies
Stand out from the crowd and research the companies you are going to speak to.
Visit their career pages and gain a better understanding of what the company does, and for more detail about who they are looking for.
Dress to impress
You could be meeting with your future employer so leave the faded jeans and flip flops at home. 73% of recruiters said that your personal appearance would be a deciding factor in employing you.
Floorplan & MK Job Show Guide
Visit the organisers stand to pick up the floorplan and a copy of the MK Job Show Guide. This will help you plan your day and give you further information on the organisations you are going to approach.
Be Enthusiastic
Don't just say "hi" and leave your CV. A good first impression is crucial – engage with a smile and a handshake. Make sure they will remember you after the event has finished.
Check out the Seminars and Workshops
Visit the workshops to learn how to write the perfect CV and master the best interview practices. Also attend the exhibitor seminars to find out more information about the companies attending.
Next Steps
Ask the employer for the next steps in the recruitment process, so you have a clear idea of what to do next.
Nice to Meet you
Remember to follow up with the employer after the show- either by email or phone. This will demonstrate that you are pro-active and interested to take things further.
Dates to remember
Add important dates to your calendar- assessment days, interviews, application deadlines…
Don't feel discouraged
If it's been a couple of weeks since you last heard from them, show initiative and ask about the status of your application. Remember they have lots of candidates to look through, contacting them will push you up the list.
Employers love taking part in the MK Job Show as it is an opportunity to meet potential applicants face to face. Many people have applied to companies online and not had a response, but when they meet the same employers face to face they end up getting the job.
The MK Job Show is one of the only opportunities where you can meet senior recruitment personnel face to face and is the opportunity to make an impression that can't be done on line.
We have 60 organisations taking part including Main Sponsors University of Bedfordshire Milton Keynes, and sponsors Deloitte, Dawson Group, Barratt Homes, Volkswagen Financial Services and Life Search. In the weeks running up to the MK Job Show thousands of people telephone the MK Job Show to find out what type of vacancies the companies taking part have. The MK Job Show has therefore for the first time added the list of vacancies each company has on www.mkjobshow.co.uk. It is not an exhaustive list so please also take a look at their own career pages.
Other exhibitors include, 3aaa, Access Ambassadors, Aldi, Army, ATL Ltd, Cherwell & South Northamptonshire Council Job Clubs, Civil Service, Disability Confident, Excelcare, GEOAmey, GI Group, Jobcentre Plus, Kidsplay, Team Knowhow, Learn Direct, MacIntyre Charity, McDonalds, Millbrook, MK Fostering & Adoption Team, MK Gallery, MK Libraries, Mothercare, MPI Limited, Mulberry Bear Day Nursery, National Careers Service, Neighbourhood Employment Programme, Nova Training, Orange Grove Foster Care, Pets At Home, RAF, Ricoh, Rockwell Collins, Santander, Shared Lives MK, Travis Perkins, Turning Point, University of Bedfordshire, University of Buckingham, Wetherspoon, Wild Recruitment, World Vision, Xero.
Good luck with your job hunting.