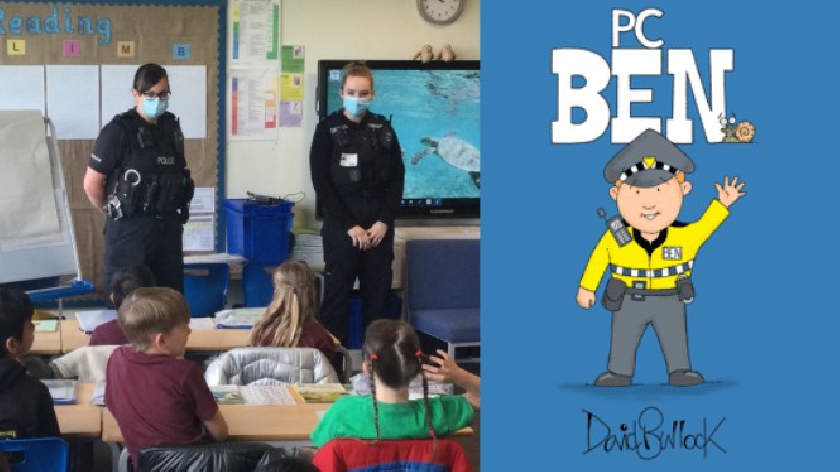 Thames Valley Police has shared its latest recruit, storybook character PC Ben, who will be visiting children at local schools.
PC Ben is the title and hero of a new storybook that neighbourhood policing teams will be using as part of visits to schools, helping to explain the role of the police and promote positive interactions with children now and for the future.
The illustrated book tells the story of PC Ben, a neighbourhood police officer who has a busy day looking after his local community. He is friendly and takes his time to speak to people, is kind and knows how to help as he comes across various situations.
2,700 copies of the book have been purchased, with around 900 infant and primary schools across the whole Thames Valley to each receive three copies. Parents will receive access to a digital version of the book so they can re-visit it at home with their children. Children will also receive colouring sheets and stickers.
Last week, PC Leanne Tayler together with PCSOs Poppy Groves and Arlene Ormston visited the Brooklands Farm Primary School in Milton Keynes to deliver the PC Ben lesson and get to know children.
Speaking after the visit, Jason Peters, Assistant Headteacher of Brooklands Farm Primary School, said: "Our children are growing up in a busy world and it is our role to help them to become valuable members of their communities. Our school values of honesty, friendship, responsibility and respect are reflected in the PC Ben book.
"The school visit helps our children to learn that the police are friendly and ready to help, just like PC Ben. The children loved the visit."
In the coming months, every single school in the borough will have a visit from the neighbourhood policing team, who will read PC Ben's story and lead a short session. They will take questions and explain who the police are and how they help keep communities safe.
This initiative is part of a wider project to work with young people to help them avoid being drawn into crime.