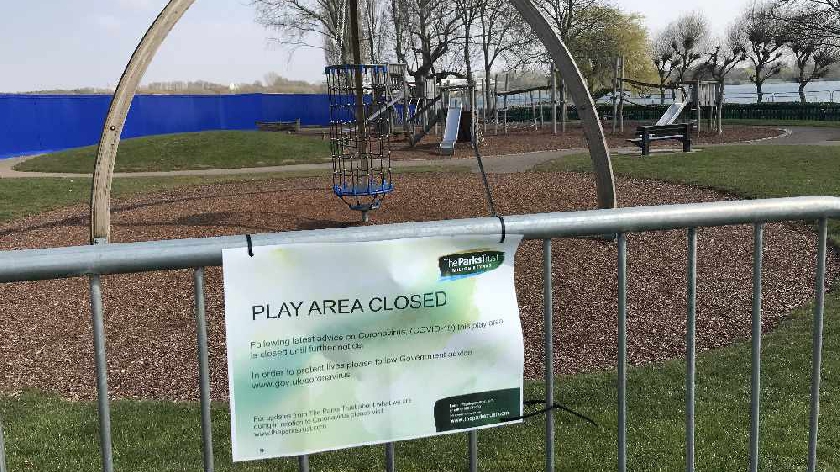 Parents have been urged to stop their children breaking coronavirus rules following reports that closed off play equipment is being used across Milton Keynes.
The elected head of public realm at Milton Keynes Council says she has had reports from around the city of children playing in the areas despite notices saying that they are closed during the pandemic.
"There is a risk that children using the sites can pick up the virus from surfaces and spread it to other people," said Cllr Emily Darlington (Lab, Bletchley East), the cabinet member for public realm.
"The science is not clear on how long the virus can survive on various surfaces but it is not scaremongering to say there is a risk, and who would want to take the risk," added the mum of two.
Cllr Darlington, whose own children are aged three and nine, said she knows what it is like trying to keep kids occupied but it remains vital to stick to the rules.
"I've heard some great examples of families playing football at home with an invisible ball, or drawing rainbows or other messages of support for our key workers," she said.
"Perhaps families can draw Easter eggs and put them in their windows, and other families can see if they can spot them when they go out for their daily walk.
"But what people must not do is go for a bike ride, stop, and then play on the equipment," she added.
There are more than 460 children's play areas across Milton Keynes, run by either the borough council, The Parks Trust, or the network of 48 parish and town councils in the city.
As well as play areas being closed, the ban includes multi use games areas, skateparks and outdoor gym equipment.
Council leader, Cllr Pete Marland (Lab, Wolverton) reinforced his colleague's message in an email update this morning (Wednesday). He warned that the lockdown could be tightened further if people do not follow the rules.
He said: "The Government is very clear that if a small minority do not follow the rules then they will tighten the lockdown further.
The Parks Trust, on its website, says that parks across the city may be used for exercise but just once a day for a walk, run or cycle. But they don't want people to travel outside their direct local area,
The Parks Trust has closed Linford Lakes Nature Reserve, Howe Park Wood Study Centre, all toilets, bird hides and its own offices.
They add: "The virus can live on surfaces and you put yourselves and others at risk by touching them."
All Parks Trust activities have been cancelled, including fitness and personal training activity.
The Parks Trust is following Government advice and says residents should stay at their own home and only go outside for food, health reasons or essential work, stay two metres away from others, and wash your hands as soon as you get home.