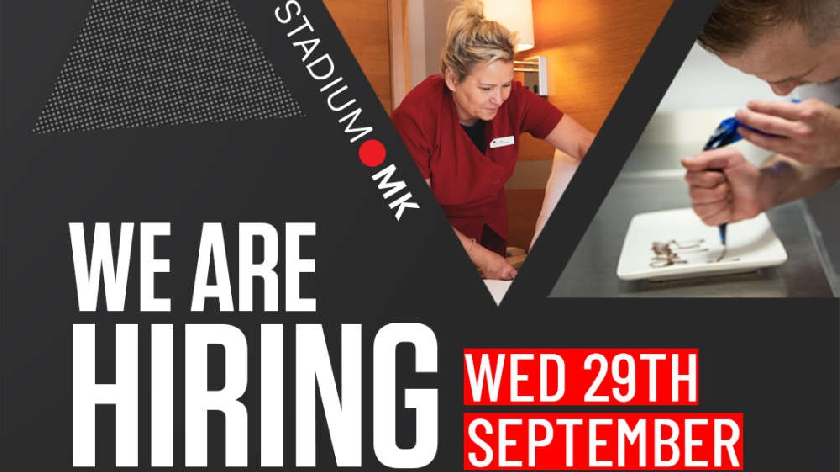 Stadium MK are hosting an open day on Wednesday 29 September 2021 from 8am – 6pm. It's the perfect opportunity for anyone searching for a career or just simply a change of job.
Stadium MK is a 30,530 seater stadium in Milton Keynes, home to MK Dons Football Club, DoubleTree by Hilton, Marshall Arena, Marco Pierre White Steakhouse Bar & Grill, MK Dons Sport & Education Trust and MKFM.
What to expect
Discover what job opportunities Stadium MK have on offer
Meet the team at Stadium MK
Get a feel for what it's like to work at this fantastic venue
Ask any questions you may have and find the right role for you
Opportunity to apply and interview, all in the same day!
On the day, please bring along a copy of your CV.
Time: 8am – 6pm
Location: Players' Lounge at Stadium MK
Address: Stadium Way West, Bletchley, Milton Keynes, MK1 1ST
What roles are available?
Women's Recreational Coach - Zero Hours
Assistant Strength & Conditioning Coach– Full Time
Academy Head of Education & SEP Co-ordinator
Education Manager– Full Time
Head of Programmes
Hotel Receptionist– Full Time
Night Team Member– Full Time
Senior Academy Physiotherapist
Maintenance Assistant– Fixed Term
Loading Bay Operative– Full Time
Cleaning Assistant – Full Time
Linen Porter– Full Time
Linen Porter – Part Time
Linen Porter– Zero Hours
Room Attendant – Full Time
Room Attendant– Part Time
BBO Project Officer
Sports Therapist – Zero Hour
Academy Lead Coach – Part Time
Event Catering Host – Part Time
Kitchen Porter – Full Time
3rd Line Technical Analyst – Full Time
Food & Beverage Team Member – Zero Hours
Safety Steward – Zero Hour
Housekeeping Support Team Member – Zero Hour
Sign up by clicking below and submitting your details. One of the Stadium MK team will then be in touch with your time slot and will do their best to accommodate your preferred time.