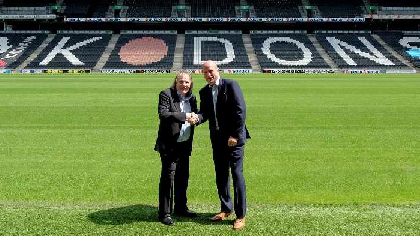 Local service provider dbfb delivered the Dons stadium connection utilising CityFibre's ultrafast full-fibre infrastructure, providing them with next-generation broadband services up to 100 times faster than the UK's average speeds.
As the latest addition to Milton Keynes' Gigabit City network, Stadium MK is transforming their connectivity across the premises including Arena MK and DoubleTree by Hilton Milton Keynes.
Already a well-established events and conferencing venue used by some of the UK's largest firms including Mercedes Benz, Santander, Boots and Whitbread, the demand for ultrafast services will now allow guests to connect up to 3,000 mobile devices at the same time and take advantage of new technologies such as virtual and augmented reality with ease.
Chairman of the MK Dons Pete Winkelman said: "We are very excited about our new gigabit connection from dbfb and CityFibre which will allow us to optimise and manage our clients' connectivity requirements on a much larger scale. This will promise ultrafast internet services for guests, and a reliable quick connection for staff which should improve performance and productivity.
"Many of our clients are high-end firms with vast, technology dependent events. These events can require a substantial amount of internet data to truly immerse guests in the experience which we are now able to provide thanks to this new full-fibre connectivity."
Gaining Gigabit City status in 2016, businesses across Milton Keynes are already taking advantage of CityFibre's network via connections from dbfb. Simon Pickering, Managing Director at dbfb said: "An ultrafast full-fibre connection provides the essential digital infrastructure required to run multiple applications simultaneously by multiple users without fear of bottlenecks. This is vital for a large scale facility like Stadium MK."
He added: "Arena MK, which can host up to 5,000 guests, and the DoubleTree by Hilton, which has capacity for 1,000 delegates, can now offer customers unrivalled and reliable internet connectivity at their facilities."
The Eventbrite Event Industry Report 2017 highlights Virtual Reality or Augmented Reality a growing trend amongst event organisers with 31 per cent now considering this technology for their next event compared to 23 per cent last year. Connectivity will prove vital as venues strive to meet the increasing technological requirements of customers.
Marc Lough, City Development Manager at CityFibre said: "We're helping to build on Milton Keynes' fantastic tech credentials by delivering ultrafast connectivity through a full-fibre digital communications network.
"Having been identified by the National Infrastructure Commission as the ideal future home of the UK's Silicon Valley, Milton Keynes sits at the forefront of the UK's digital revolution.
"Welcoming Stadium MK to the network is a great step forward for the local economy: event organisers the world over are seeking to use more tech to revolutionise the delegate experience, therefore, this connection can only enhance Stadium MK's reputation and as a world class destination in a forward thinking city location."
As the network continues to be extended, businesses are urged to register their interest at www.cityfibre.com/connect