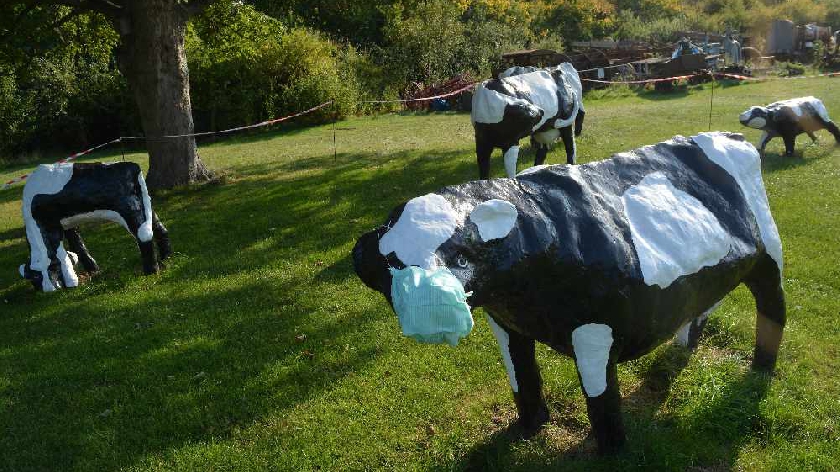 The concrete cows at Milton Keynes Museum have been spotted 'leading by example' by following social distancing and wearing face masks.
The Concrete Cows – residents at Milton Keynes Museum - are reminding everyone that being safe is paramount in these unprecedented times.
"It's a little bit of fun and we hope it raises a smile with visitors," said museum director Bill Griffiths, "It is a joy to have the museum open again and we have all necessary procedures in place here to ensure that everyone has an enjoyable and safe visit. The cows are leading by example!"
It is currently the law to wear a face mask in various indoor settings including:
public transport (aeroplanes, trains, trams and buses)
transport hubs (airports, rail and tram stations and terminals, maritime ports and terminals, bus and coach stations and terminals)
shops and supermarkets (places which offer goods or services for retail sale or hire)
shopping centres (malls and indoor markets)
auction houses
premises providing professional, legal or financial services (post offices, banks, building societies, high-street solicitors and accountants, credit unions, short-term loan providers, savings clubs and money service businesses)
premises providing personal care and beauty treatments (hair salons, barbers, nail salons, massage centres, tattoo and piercing parlours)
visitor attractions and entertainment venues (museums, galleries, cinemas, theatres, concert halls, cultural and heritage sites, aquariums, indoor zoos and visitor farms, bingo halls, amusement arcades, adventure activity centres, indoor sports stadiums, funfairs, theme parks, casinos, skating rinks, bowling alleys, indoor play areas including soft-play areas)
Some people will be exempt from wearing a face covering including children under the age of 11 or those with certain disabilities, mental/physical illnesses, or impairments.
Click here to read more about the rules surrounding face coverings.