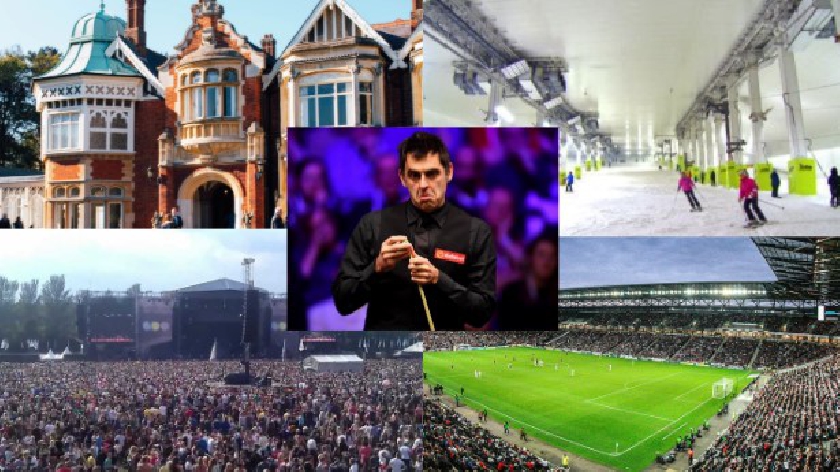 Ronnie O'Sullivan has made national headlines after branding Milton Keynes as "not good for the soul" after spending months competing here.
The 45-year-old played in ten tournaments at the Marshall Arena this season and had to stick within a strict bubble environment due to COVID-19.
Upon his departure, he spoke to The Sun and seemed to be glad to be leaving. He said: "I am just glad that I haven't got to come back to Milton Keynes this season. I am done there now… I have done my time!"
O'Sullivan added that staying here for one full tournament was not "good for the soul".
But in fact, O'Sullivan would have spent the majority of his time here in lockdown - meaning that he couldn't experience even half of what the city has to offer.
We have put together a list of ten things that he wouldn't have been able to experience because of the COVID-19 pandemic...
1. He wouldn't have been able to visit Bletchley Park
This place is certainly good for the soul! Bletchley Park, a vibrant heritage attraction and museum, is a major part of world history.
During World War Two, the Government Code and Cypher School (GC&CS), now known as the Government Communications Headquarters (GCHQ), was based at Bletchley Park. It grew from a small team of specialists to a vast intelligence factory of thousands of dedicated women and men.
This extraordinary combination of brilliant and determined people and cutting-edge technology contributed significantly to Allied victory. In tough conditions, they provided vital intelligence and developed pioneering technological innovation that had a direct and profound influence on the outcome of the war.
The site continues to reveal secrets and tell fascinating stories of our national legacy.
It will be reopening on May 17th and we can't wait to visit again.
2. Or see a legendary gig at The National Bowl
Over four decades ago, the National Bowl in Milton Keynes was born - and since then it has seen world-renowned artists coming to play in the heart of our city.
Just three years after opening in 1979, Queen was the concert that first put the National Bowl on the map. As part of their Hot Space Tour, Milton Keynes was one of 69 tour dates for the group.
It has since welcomed acts such as David Bowie, Michael Jackson, Metallica, Bon Jovi, Green Day, Swedish House Mafia, and the Foo Fighters.
What a place!
3. He probably didn't order groceries from a robot
Did you know that MK is home to the world's largest fleet of autonomous robots? No? Ronnie O'Sullivan probably didn't know either!
Milton Keynes has dozens of Starship delivery robots that deliver groceries, takeaways, and more right to your front door.
It's great to see the little white robots travelling on the redway network - you've probably even helped one out when it got stuck in a puddle, or in some mud. They even say thank you!
4. Did he see experience some history at the Milton Keynes Museum?
The Museum was founded in 1973 when a group of local people began to collect items found in farms and factories that were being closed down to make way for the development of Milton Keynes, the UK's last 'new city'.
It has now developed into one of the go-to attractions in the city and has plenty of interesting exhibits.
Milton Keynes Museum has a wartime garden complete with an Anderson shelter, an old-fashioned high street, a schoolroom, a farmhouse kitchen, and lots more.
5. We doubt he tried snowboarding at Europe's largest indoor real snow resort
Snozone, within the Xscape, is a great way to experience a trip to the snowy mountains without leaving the MK postcode.
It draws crowds in from all across the country for skiing, sledging, and snowboarding.
Usually, the slopes are open every day of the week, but sadly due to lockdown it has had to close to the public - so we highly doubt Ronnie O'Sullivan could have had a go.
6. Hmm, did he get lost in IKEA?
We have got so used to popping to IKEA to pick up a flat-packed wardrobe, or some 10p forks, that it's easy to forget that there aren't that many in the UK.
Before the MK store opened, residents would regularly travel to London to get their furniture fix.
A few more stores have opened in recent years but there are only three in our region, the South East, so it's certainly something we are lucky to have.
If we weren't in lockdown, O'Sullivan could have been able to spend a day in there, literally!
7. Or watch a brilliant performance at Milton Keynes Theatre?
One of the region's leading live entertainment venues, Milton Keynes Theatre showcases the best West End and touring productions from across the UK.
The much-loved arts venue offers a wide and varied programme including first-class dance, drama, musicals, opera, comedy and children's shows.
Jimmy Carr, Grease, Bedknobs and Broomsticks, Diversity's Jack and the Beanstalk, and even The Dreamboys will be coming to the theatre later on this year. O'Sullivan missed out big time!
8. O'Sullivan wouldn't have been able to do a race at Daytona
Celebrities including Tom Cruise and Anthony Joshua have raced at Daytona!
Daytona Milton Keynes combines two superb circuits with "unrivalled" hospitality facilities. The 1200m International Circuit is widely recognised as the best in the UK - and the North Circuit is perfect for Juniors.
9. We doubt he shopped at one of the UK's top shopping centres
With 1000's of brands under one roof, the centre:mk is one of the UK's top shopping destinations based in the heart of Milton Keynes.
It draws in tens of thousands of shoppers per year and is known for its brilliant Christmas displays.
In December, it was announced that the centre:mk saw a bigger increase in post-lockdown footfall than Oxford Street!
And despite the decline in high street shopping, the centre:mk bucks this trend as one of the few shopping and leisure destinations in the UK to see footfall growth last year at +2.5%.
10. He couldn't have watched a game at Stadium MK
Stadium MK, where O'Sullivan competed, is also home to the MK Dons. The first team has been playing behind closed doors due to the COVID-19 pandemic so he was unable to see the boys in action.
So, there is plenty to do in Milton Keynes - and we think it is great for the soul! Maybe we should invite Ronnie O'Sullivan back to Milton Keynes this summer to see if he changes his mind? We're sure he will have a different opinion once he can see everything this city has to offer.