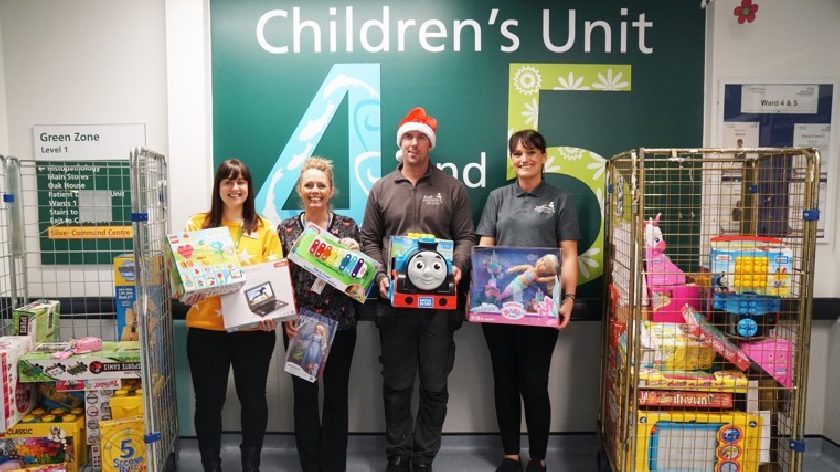 ...by donating £1290 worth of gifts.
Throughout December, local car body-shop, Scuff N Scratch Solutions raised £645 – which was doubled by owner, Rob Clark making a total sum of £1290 to purchase toys for children spending their Christmas in Milton Keynes University Hospital this year.
On Thursday, owner Rob Clark was joined by Office Manager, Carly Fisher who visited the Children's Ward to give the gifts that had been purchased for the children in the ward.
Rob Clark, owner of Scuff N Scratch comments: "We'd like to thank all of our customers who kindly donated to our Christmas campaign and helped make this possible. We are delighted to have raised so much money to donate gifts to the children who won't be able to spend this Christmas at home. No child should have to spend time in hospital, especially at Christmas. Along with the team, we're thrilled that our small act brought joy to so many children and their parents."
Jenny Howells, Senior Fundraiser at Milton Keynes University Hospital Charity comments: "We'd like to say a big thank you to the team at Scuff N Scratch Solutions who have raised an incredible amount of money for the children's wards at Milton Keynes University Hospital. Being in hospital can be especially scary for children, and so these wonderful gifts will be very much appreciated at this time of the year!"
Scuff N Scratch Solutions is a premier accident repair body-shop company known for being a leading local repairer with an exceptional reputation within the area. Its team of experienced and qualified technicians specialise in repairing vehicles under insurance, or privately – all of which is under full warranty. Scuff N Scratch have been trusted by big name car brands, as well as hundreds of car owners for many years.
For further information about Scuff N Scratch Solutions and its wide range of services, visit www.scuffnscratchsolutions.co.uk