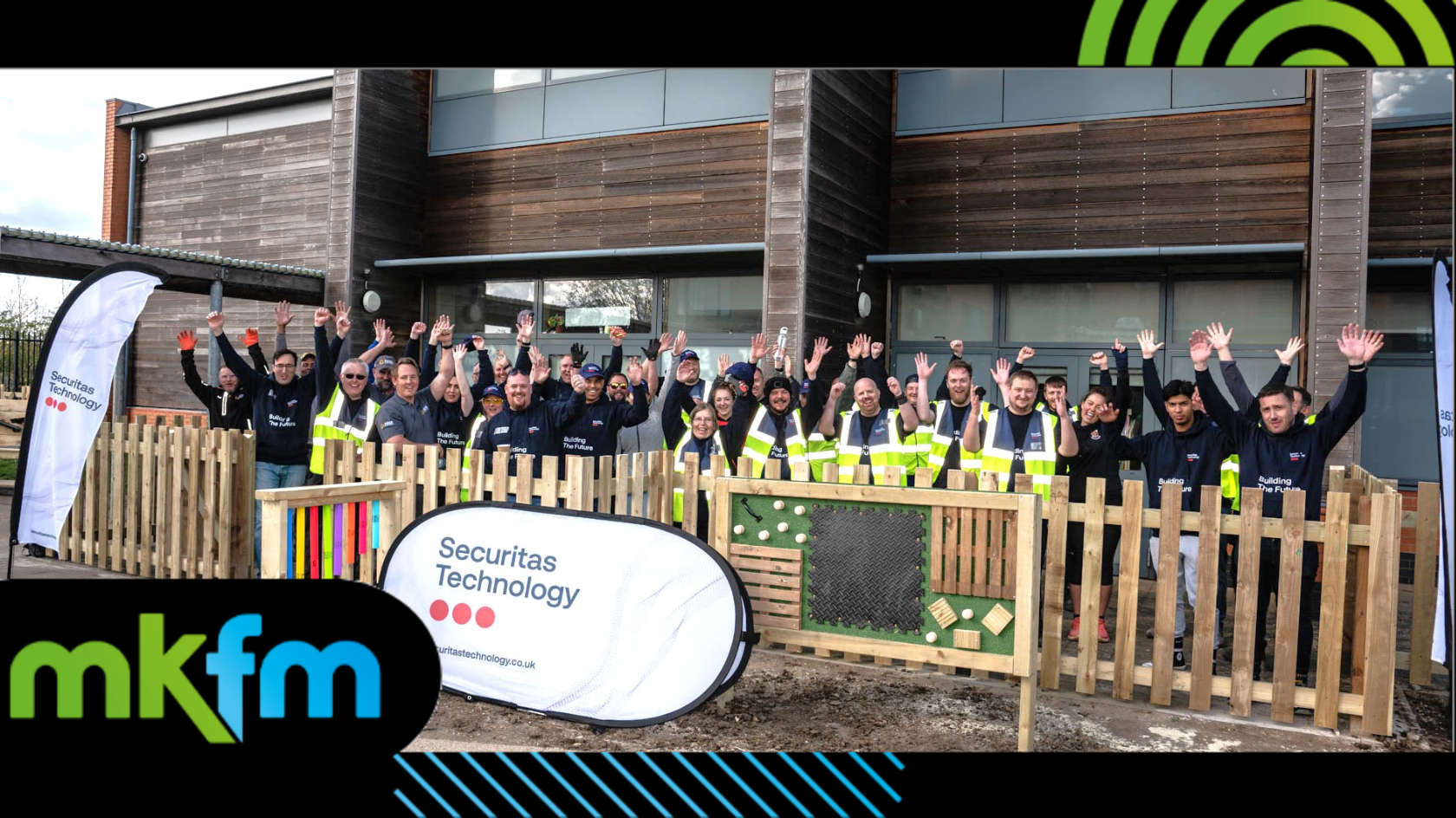 Securitas Technology has celebrated its UK launch by delivering a community sustainability initiative to help improve the lives of young people with social communication difficulties.
The project, named Building The Future, took place on April 13, 2023 and saw a team of 25 employees from Securitas Technology work together to plan, build and hand over a new sensory playground to The Walnuts School in Milton Keynes.
The school was in desperate need of new outdoor facilities that could be enjoyed by its pupils, who range between the ages of 4 to 19 and have an Autistic Spectrum Disorder (ASD) or a Social Communication difficulty.
The possibility of developing the playground could only materialise with funding and hands-on involvement from proactive community-focused organisations, which is where Securitas Technology was able to step in, working in partnership with Fusion Initiatives and Wooden Spoon, the children's charity of rugby.
Participants were tasked with working off plan to source construction materials, manage labour and use a variety of hand and power tools to build fencing, outdoor furniture and sensory play equipment.
Securitas Technology Sales Manager, Amy Brown, whose day-to-day role involves providing security technologies and services to businesses in the North of the UK, described why she volunteered to not only take part in the initiative, but also come forward as Project Lead: "I wanted to take ownership of leading the team to ensure everybody knew what we were doing and understood the real reasoning behind why we were there. Having a son who suffers with ADHD, I know how much the outdoor environment relaxes and calms him, so the idea of being able to do that for the children at The Walnuts School meant a lot to me. We hope the children have a fantastic time in this space."
Following the successful installation of the new playground by Securitas Technology employees, the school has a revamped outdoor space in which to deliver interactive learning experiences, while its 180 pupils have a safe, open and engaging environment in which to express themselves and reach their full potential.
As soon as the dust settled on the new playground, Headteacher of the Walnuts School, Jonathan Budd, explained how much the new space will mean to its pupils: "It's an area of the school that we've simply not been able to invest in for many years. Thanks to the collaboration between Securitas Technology, Fusion Initiatives and Wooden Spoon, this is going to transform the opportunities our young people have, show them how important they are, and what they deserve."
Securitas Technology employees worked under the professional direction of Fusion Initiatives; a team of ex-military leaders who specialise in working with companies to deliver impactful community projects driven by meaningful team building and elite performance. Supporting veterans is a passion shared by Securitas, who themselves have many ex-military personnel within their UK workforce.
CEO of Fusion Initiatives, James O'Malley explained: "We set the participants the challenge to plan, lead and deliver their own Fusion Initiative, and they did that in spades. We asked them for enthusiasm, commitment and to stand two inches taller at the end of the day. I guarantee every single one of them has done that."
Representatives from official charity sponsor, Wooden Spoon were also involved in the build, as a longstanding charity partner of Securitas in the UK. With a national footprint, Wooden Spoon is the children's charity of rugby, funding life-changing projects across the UK and Ireland to support vulnerable children and young people.
Sarah Webb, Wooden Spoon CEO added: "We're proud to have helped deliver this project in partnership with Fusion and Securitas, who are without question one of our strongest corporate partners. They regularly show that they invest in their team, and today, they have really shown that they invest in the community too."
Summarising Securitas Technology's involvement in the project, UK Country Co-Leader, Vincent Poty said: "I am thrilled for Securitas Technology to have been part of this project, which has helped us celebrate our recent UK launch and bring together a diverse team from different parts of the business. As a company, it's great to be bringing positive vibes to both the community and our team as we continue building for the future."
A video of the day is now available on YouTube, featuring before and after images of the site, along with interviews with members of Securitas Technology, Fusion Initiatives and Wooden Spoon.