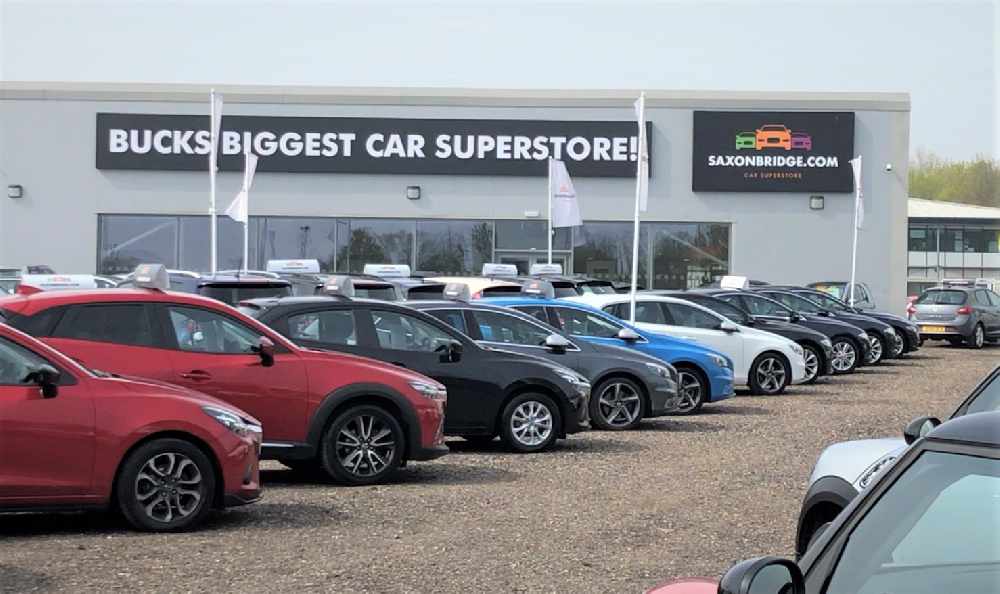 The Trading Standards approved dealer closed their gates last Wednesday when funding was pulled by bank.
'Saxon Big', as it was known, was the largest car superstore in Buckinghamshire with over 14,000 customers according to a statement released yesterday. Saxon Bridge was renowned locally for great service from a family owned business and was approved by Trading Standards giving customers further peace of mind.
However, it appears that any customer who has paid a deposit or taken out a service plan could lose their money and are now in the hands of the administrator.
The business was originally based in Wolverton until its move to Mount Farm in Bletchley. The new site was launched with a heavy advertising campaign on TV, Radio and newspapers. Despite the campaign, the closure has been blamed on funding being pulled, Brexit and tough trading conditions.
Last Wednesday was the first sign of trouble when the business suddenly closed with a number of transporters seen at the premises removing many of the 600 cars.
MKFM understands that the business owners, tried to keep the business afloat by attempting to restructure the finances of the business with it's bank and investors.
In a statement to MKFM yesterday, the owners said '' We were a family run company, employing local people for the last 12 years. Unfortunately, like so many companies this year, we have failed. We have done everything we can to pay our staff and local small businesses before closing and will work tirelessly until everything is resolved to the very best of our ability ''
They continued '' the managing director does not own a sports car and is definitely not flying off to the Bahamas, he is at home explaining to his wife and two young children they are about to lose everything including their home''
Since the collapse of the business, MKFM understands that the senior management team have been working on plans to transfer the service plans paid monthly by customers to another company. Affected customers have been told to cancel their direct debits as there is currently no agreement in place for anyone to honour the service contracts.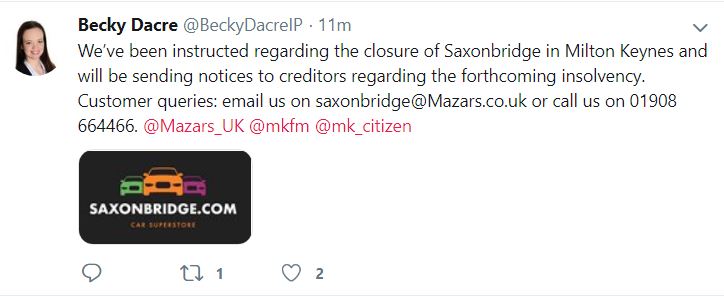 Customers who have finance agreements have been reminded to continue their repayments and speak to the lender directly to resolve any outstanding issues. People who have paid deposits or have paid into a plan are being directed to the administrators Mazars.
Despite the news that some customers could be out of pocket, many have taken to social media in support of the directors and staff.
Posting on Facebook, Ben Heslop said: "Gutted for you all. Nothing but admiration for your efforts and the charity work you guys do/did. Being one of, if not the last, customer to collect a car from you I echo what my wife has already said - we cannot fault your staff or family."
Lisa Matthews added: "So surprised and shocked to have heard this. We bought three cars from you and we feel for you all. Look forward to hearing of new ventures in the future because we will certainly be back. You are great people and great at your jobs. Thinking of you all."
David Glossy added, "This company was a credit to Milton Keynes with the way they did business. A very sad day! All the best for the future."
Donna Beecham continued: "We are shocked and devastated to read this. Such an amazing local company. We had the best service ever when buying our van and we most certainly would have been back. I wish every one of you the best. Good luck guys.''
Meanwhile, Jacky Whiles, mother to one of the owners Brett Whiles added: "I just want to let the whole of Milton Keynes know that there is no mother prouder of her son and daughter-in-law than myself. My son is one of the most honest, genuine young men anyone will ever meet in their lifetime and he is aided and abetted by probably the nicest, kindest most understanding wife any man could ever wish for"
"Brett, Carly and my two beautiful grandchildren have indeed lost everything while at the same time trying to ensure that their troubles have as little effect on their staff and small businesses that worked with them. Thank you, thank you, thank you to each and every one of you that has put up such lovely posts this morning."
Mazars have been instructed regarding the closure of Saxon Bridge and say they will be sending notices to creditors before a crunch meeting later this month when the company is likely to go into official liquidation.
Customers with queries are advised to email saxonbridge@mazars.co.uk or call 01908 664466.