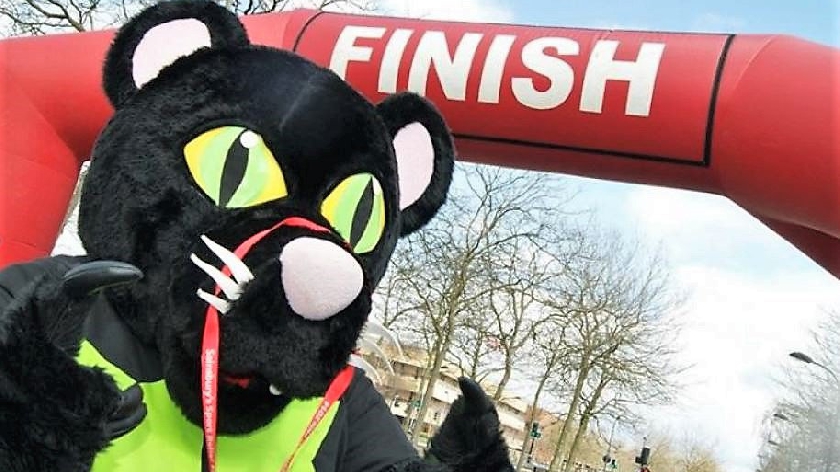 After many years on the streets of Milton Keynes, MKFM's mascot says she's looking forward to returning to her native land with year-round sunshine
MKFM's Mascot, Samantha the Panther, has announced her retirement and return to her family in Africa.
Samantha, who has been a part of the MKFM street team since 2011, has supported hundreds of events raising vital funds for several charities.
Her last public appearance will be this Saturday at the 2018 Midnight Moo. The event will see over 1000 women walk 10 miles for Willen Hospice. Samantha loves nothing more than bringing smiles to the faces of Milton Keynes and she is so excited to do just that on Saturday.
Some of her highlights at MKFM include; learning to ride a Segway at the Fenny Poppers Festival, dancing to the YMCA at the MK Dons Family Fun Day, performing on stage with Stavros Flatley at the Bletchley Christmas light switch on. Samantha loved her time at Top Jump learning to trampoline, visiting 360 Play and celebrating Gully's birthday at Gulliver's Land.
In a rare statement, via her interpreter, Samantha says, "I have loved being in Milton Keynes but last winter's harsh weather got to my paws. I have decided I have reached the time in my life where I need the warmth of the African sunshine all year round." She continues, "The people in Milton Keynes have been fantastic and I will miss them all so much. I have a big photo album to take with me on my travels to remember all the great times. One of my favourite memories in MK was the day I won the Mascot Race at the MK Dons. My friends Puckey, Donny and Mooie and Twizzle and Twirl were tough competition, but I followed my paws and felt confident that a panther shouldn't be outrun by a polar bear, cows or humans!"
Darren Dorrington, Managing Director at MKFM says, "Like so many people we are grateful for Samantha's work over the last few years. We estimate she has attended over 1,000 events and has helped to raise over one million pounds for various charities across the area. We wish her a long and happy retirement in Africa."
If you have any photographs or memories you have shared with Samantha please add them to our Facebook page or email panther@mkfm.com and wish Samantha well on her retirement.
Whilst Samantha will be a hard act to follow, the search for a replacement mascot at MKFM is now on.