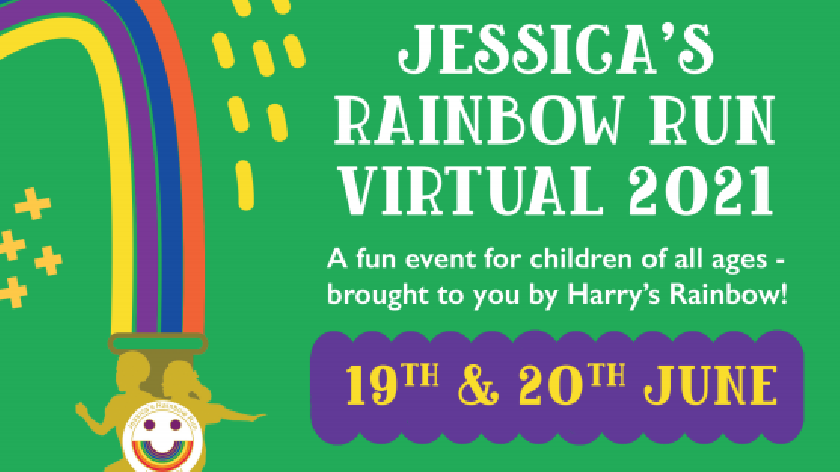 Jessica's Rainbow Run will take place virtually on the 19th & 20th June to raise funds and awareness for local charity, Harry's Rainbow.
Harry's Rainbow are a children's charity who provide support to bereaved children in Milton Keynes and surrounding areas.
Jessica's Rainbow Run is the Harry's Rainbow flagship event, that they look forward to hosting for the local community every year. The run was thought of by Harry's sister Jessica when she decided she wanted to do something in memory of Harry and to support the charity her family founded.
Unfortunately, due the current restrictions placed on mass participation events due to the Covid-19 pandemic, the charity are sadly unable to hold their popular fun day at Wolverton Recreation Ground. However, not wanting wanting local children to miss out on the popular event and the chance to get their fabulous medal, the team are taking the event virtually!
Those willing to participate will still be able to collect their JRR medal by completing a 1-mile run/skip/jump/hop in their own time on the weekend of the 19th and 20th June. This can be at your local park, around the block, down the river - the choice is yours! When you have completed your mile, send Harry's Rainbow a photo of you taking part, a screenshot of your fitness tracker or apps such as MapMyRun or Strava.
Though this event is for children, if you are an adult accompanying your child and would like to receive a medal, then simply sign yourself up too - the more the merrier!
All participants will receive a virtual certificate within a week of the event and medals will follow approximately 4 weeks later.
Harry's Rainbow are encouraging children to raise sponsorship money this year which will enable them to purchase memory boxes for their newly registered families. In 2020, the charity registered 80 children, each child received a memory box with carefully selected items inside, as well as suitable books and resources.
If each child taking part could raise £50 this would enable Harry's Rainbow to provide many more boxes for the children who need them. Even £5 - £10 would pay for a book. Imagine how proud your children would be knowing they have contributed towards these items. They have also designed a special colouring sheet for the children to complete as they reach milestones during their fundraising. These are available for download and printing or post (upon request), as soon as you have registered.
Just giving pages can also be set up here.
However, raising funds is not compulsory, as knowing the charity are able to continue the event this year and knowing you are taking part - albeit in a different way - will bring many smiles to the Harry's Rainbow community.
Tickets to join Jessica's Rainbow Run can be purchased here.