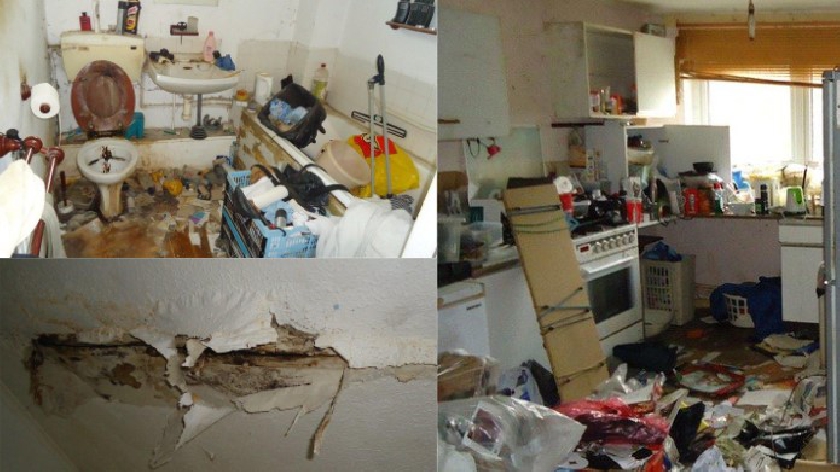 A run-down home in Milton Keynes that requires a lot of fixing and cleaning is being auctioned off at the starting price of £90k.
This three-bedroom terraced property like this in Stantonbury would usually go for around £200,000+, and at first glance, it looks like the buyer would be getting themselves a bargain.
But upon closer inspection, it is clear to see that the house is incredibly run-down and in need of a major makeover.
There is rubbish piled up outside the front of the property, and upon entering the corridor is filled with old postage, cobwebs, and plenty of grime all over the walls.
The entryway links to a large kitchen area that still has some appliances, including a kitchen and oven, and much much more. Old clothing, washing baskets, papers, bottles, rubbish bags, and even a blender are left on the counters and across the floor.
The Fowler-based house also has what appears to be a comfortably-sized dining area, that still has a dining table alongside more clothes, books, storage crates, washing lines, and rubbish next to it.
Three bedrooms are full of old posters, including Blade Runner and Firewall, and Star Wars memorabilia.
Wallpaper is peeling off of the walls, and there appears to be damage to the ceilings.
This is a property that requires a lot of work to bring it up to standard but could potentially interest a budding property developer.
It is being sold by auction on 22nd April by Auction House Robinson & Hall.
The company said: "Located away from passing traffic, this terraced house is in a very poor condition and requires refurbishing throughout. The accommodation is over two floors and there are gardens to both the front and rear.
"The house is set between the cul-de-sac roads of Fowler and Jennings with Jennings being the closest and each providing parking areas at the end. To the rear of the terrace is a communal green space and opposite are recreational areas that include an athletic club, football pitch and a skate park."
Take a closer look at the property below...
To find out more, visit Rightmove's website.