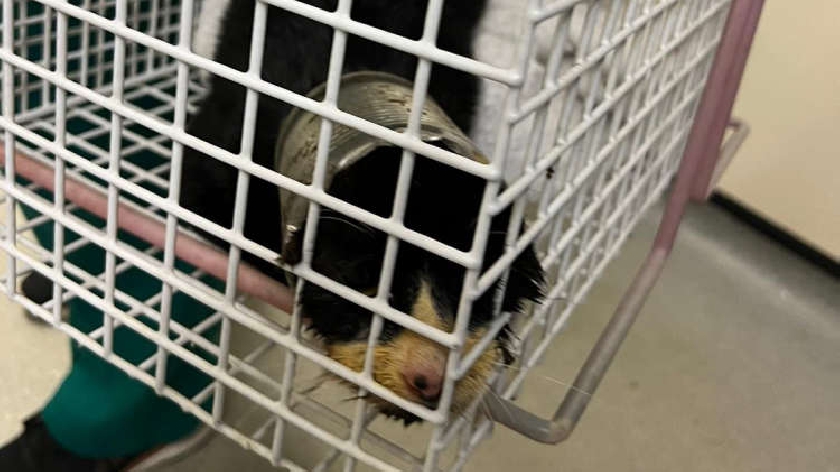 Image: The RSPCA
A stray cat who had his head stuck in a tin can in Kents Hill has been rescued by the RSPCA after a week-long hunt.
A stray cat being spotted in Kents Hill, Milton Keynes, led to a week-long hunt to free him.
A team led by RSPCA MK specialist trappers finally managed to net him in Tunbridge Grove.
Twelve local traps had been set and with the help of concerned members of the public the terrified moggie was cornered – but he still managed to evade capture for a further hour as darkness fell.
An RSPCA spokesperson explained:" He was scared and went into fight or flight mode. Despite his desperate plight and not having eaten for days he was determined to avoid us. He had amazing agility and even wriggled out of a small gap in a garden shed to elude us."
The cat – now named Finn – was taken straight to the vet where the can was removed. He was given fluids to rehydrate him plus antibiotics and pain relief.
"He is very underweight, "said the spokesperson, "but responding remarkably well to the treatment. We are enormously grateful to those people who helped."
Finn is an entire male cat with no identifying chip and is thought to be a stray living off his wits on the estate.
Once he can eat normally and, depending on his temperament, he will be neutered and re-homed.
"This is one of the most complex cat hunts we have undertaken involving a large number of traps and the support of a posse of volunteers. A definite sighting enabled us to focus in a specific area and provide a coordinated response but it still took several hours to finally out-smart this wily creature."
It was a day of success as the trapper team was just returning from rounding up another stray cat and her five kittens near Bletchley when the fresh sighting came in.
"He's managed to travel quite some distance over a week and clearly we had to field the operation when there was the best chance of success. Thankfully this paid off. He now has cotton wool in his ears as his ordeal has made him hypersensitive to noise. He will be coming into the care of the RSPCA MK at our cattery once he is passed fit enough." Added the spokesperson.
The name Finn was selected by a family whose dog was receiving treatment at the vet when the cat was brought in.
The cost of Finn's treatment is being bourn by the RSPCA who would be grateful for any donations towards his rehabilitation, donations can be made here.