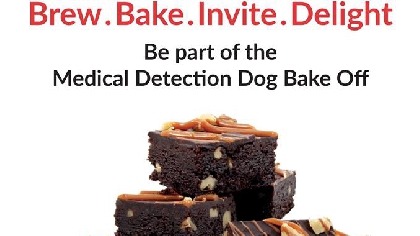 Baking and cakes are a British tradition so Medical Detection Dogs couldn't think of a more fun and delicious way to raise funds to help our dogs save and change even more lives.
There's no better excuse to bake a cake than raising money for a local charity. Whether it's a tea party with friends and family, coffee break with colleagues in the office or a bake sale, all Medical Detection Dogs asks is that you have fun and raise funds while you enjoy some tasty treats.
So, if you're a secret baker keen to show off your skills, or if you simply want to do something that will give pleasure and benefit others, why not arrange your own Bake Off? It'll be the icing on the cake!
It's easy to take part and all the help and information you need to host your own Bake Off can be found on our website www.medicaldetectiondogs.org.uk/fundraising/bakeoff/ or you can email fundraising@medicaldetectiondogs.org.uk or phone 01296 655888.