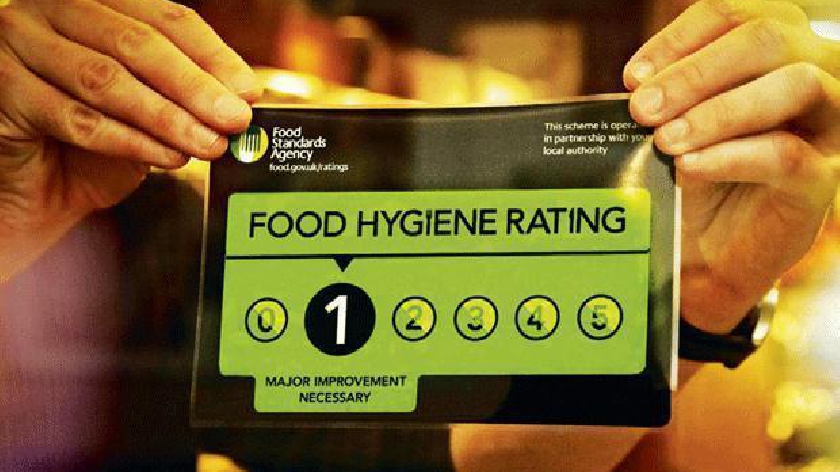 An MKFM analysis of the latest figures from the Food Standards Agency has revealed that there are 15 cafes, take aways, restaurants and venues with a one star food hygiene rating.
The ratings are intended as a snapshot of the standards of food hygiene found at the time of inspection. It is the responsibility of the business to comply with food hygiene law at all times.
It includes the handling of food, how food is stored, how food is prepared, cleanliness of facilities and how food safety is managed.
Those establishments with a one star hygiene rating in Milton Keynes are ones in which a major improvement has been deemed as necessary.
It is possible for a venue to receive a zero star food hygiene rating, however there are currently no venues in Milton Keynes with this rating.
Here is the list of the 15 venues in Milton Keynes which currently have a one star hygiene rating:
1. Cafe Express, Milton Keynes Coachway, 1-7 Coachway Road, Broughton, Milton Keynes
2. Coffee Hall Fish & Chip Shop, 46 Garraways, Coffee Hall, Milton Keynes, MK6 5EG
3. Dial a Curry, Unit 3, Summerson Court, Summerson Road, Bleak Hall, Milton Keynes, MK6 1LE
4. Dinajpur Indian Restaurant, 41 Aylesbury Street, Bletchley, Milton Keynes, MK2 2BQ
5. Gino's, 35a Aylesbury Street, Bletchley, Milton Keynes, MK2 2BH
6. Gullivers Land, Gullivers Land, Livingstone Drive, Newlands, Milton Keynes, MK15 0DT
7. KC's (Kingston Coffee Shop), 15 Winchester Circle, Kingston, Milton Keynes, MK10 0BA
8. Krispy Foods, 9 Melrose Avenue, Bletchley, Milton Keynes, MK3 6PB
9. Mahbir's Tandoori, Unit 5, Summerson Court, Summerson Road, Bleak Hall, Milton Keynes, MK6 1LE
10. Mama Africa, 27a Farthing Grove, Netherfield, Milton Keynes, MK6 4JH
11. MK Dilo Food, Trading Location, Central Milton Keynes Market, Milton Keynes, MK6 2EW
12. MK Halal Meat & Seafood Market, 159 Fishermead Boulevard, Fishermead, Milton Keynes, MK6 2AB
13. One 4 Six, Willen Lake, Brickhill Street, Willen Lake, Milton Keynes, MK15 0DS
14. Roni Hand Car Wash Cafe, Ok Garage, 182 Waterside, Peartree Bridge, Milton Keynes, MK6 3BX
15. XLN Takeaway, 25 Penryn Avenue, Fishermead, Milton Keynes, MK6 2BQ