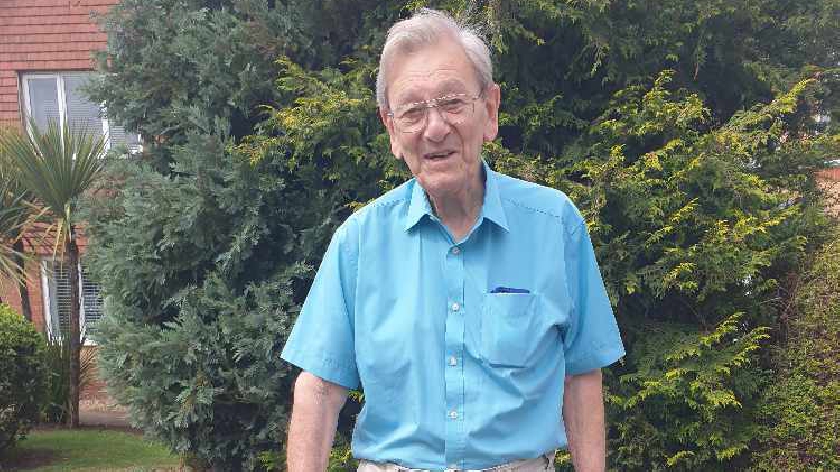 The Revd John Reardon OBE, a former United Reformed Church (URC) Deputy General Secretary 1983-90, has committed to walking 88 miles in one month in his 88th year.
John, who is a member of Newport Pagnell URC (NPURC) in Buckinghamshire is part of a team who are trying to raise funds for the Mead Centre, a community building project aimed at creating space for people who would normally find themselves on the margins of society to come together, build relationships and find a sense of community.
John has been part of the Mead Centre Team since the project began raising funds more than six years ago. Phase one of the building work, to complete a watertight shell, has been paid with the £670,000 so far, but another £450,000 is needed to start phase two and fit out the building.
"We are working with other charities and seeking to build relationships so that when the Mead Centre building is open the work of the project is already well underway", said the Revd Jenny Mills, the church's Minister.
"We have been working really hard in lockdown and have seen an explosion of fundraising and awareness raising events. I even did a three-hour hour fit-a-thon!'
The Mead Centre will be a unique space serving the local community and will be open to people from all over the Milton Keynes area, providing fully accessible changing facilities, a sensory room as well as a large hall, catering standard kitchen and meeting rooms.
Sadly, just as John – who has also served as Moderator of URC General Assembly 1995-6 and General Secretary of Council of Churches for Britain and Ireland 1990-99 – began, he experienced a recurrence of sciatic pain, that he had struggled with earlier this year.
John said: "The walk is slow because the sciatica is rather acute but so far, I've walked just over 79 miles. I realise that there are so many good causes that people are supporting but the Covid-19 crisis persuades me that there are many lonely people who long to connect with others and the Mead Centre will provide an impetus towards a more inclusive community in which the lonely, those on the margins of society, those with disabilities, and all ages will be able to connect with others and find support and purpose."
Click here to visit the JustGiving page.