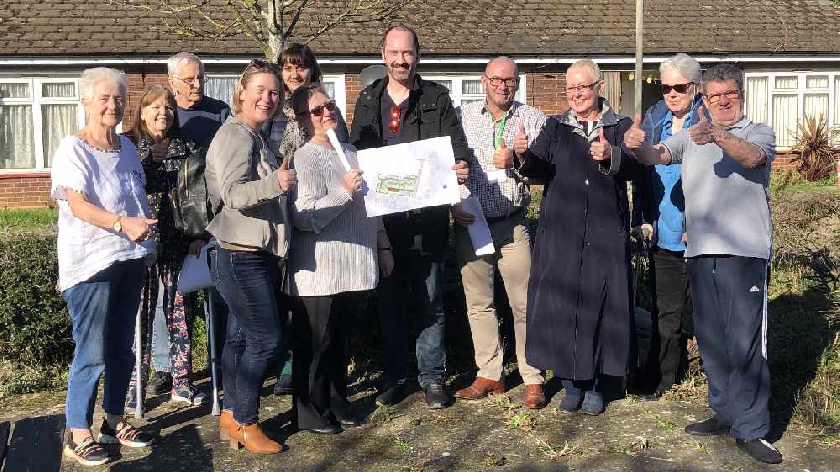 Emily Darlington has been working with the residents of Rowlands Close for over 12 months to address problems in the close.
The residents of Rowlands Close, Fenny Stratford are celebrating the decision to improve the parking in Rowlands Close and to build two new Council bungalows alongside the existing 20 properties.
The residents recently met to consider the best way forward.
Cllr Emily Darlington says, "We had a good meeting and made quite a bit of progress regarding new build and the parking. The concerns and ideas of the residents were discussed and built into the proposals."
Resident Sue Bedborough says, "I think it is going to be a much bigger project than most residents think. But real progress is being made. I will continue to support Emily Darlington and Rosemary Smith in this venture."
Fenny Stratford Town councillor Rosemary Smith adds, "What an amazing achievement. The meeting at Rowlands Close in Fenny Stratford discussed the long awaited plans to resolve the parking issues for the residents. Along with myself (Town Councillor for Fenny Stratford),the architects, the team from Milton Keynes Council and Residents was our Ward Councillor Emily Darlington. Emily has worked tirelessly alongside myself to deal with this problem and at long last we can see the light at the end of the tunnel. Thank you Councillor Darlington."
Another resident Dougie Pollock continues, "After many years of campaigning, we finally have a plan to solve the parking problems of Rowlands Close and build new bungalows for older residents. Cllr Darlington and Cllr Smith have worked hard to find a way through. Seeing the plans brings it a step closer to it finally happening,"
Cllr Emily Darlington concludes, "The residents of Rowlands Close, their carers and the emergency services all need a solution to the parking and access. Working with the Residents Association, the Council and Fenny Cllr Smith we have found a solution. I am pleased to see the progress and look forward to breaking ground on the new parking areas and bungalows,"