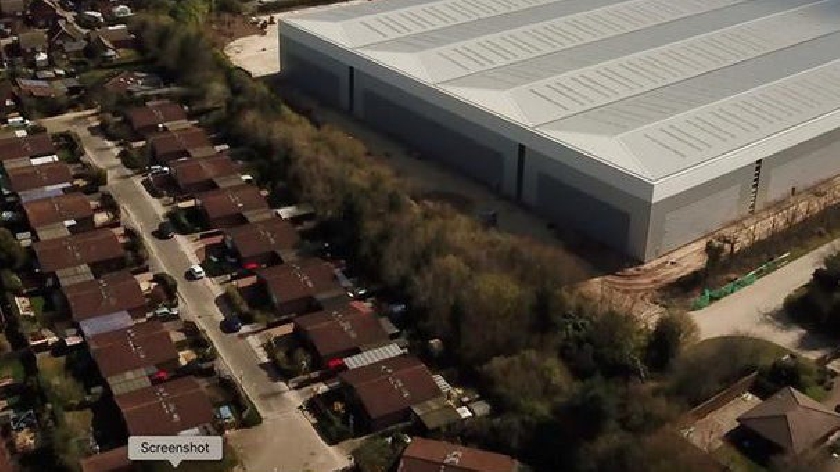 Residents who are living in the shadow of a giant warehouse fear that a much-anticipated review of a council decision that allowed it to double in height will be a "whitewash".
The independent reviewer, Marc Dorfman, has told Milton Keynes Council and residents living near the 18m tall warehouse in Blakelands that he now "aiming" for it to be completed by the first week in October.
By then it will be one year to the month since MK Council had expected to be placing the report in front of the October 2019 meeting of the audit committee.
Mr Dorfman, in a letter sent to the Blakelands Residents Association earlier this month, said the delay had been "mainly my fault and my misjudgement about the time and work involved."
In the letter, which Mr Dorfman asked to be "circulated widely" he defended his independence and re-stated that he was looking at the issues he had been asked to look into.
The review is taking a look into how the planning application was allowed and how 14 planning conditions were left off a decision notice that was sent to developers.
But Mr Dorfman has been under pressure from the Blakelands Residents Association (BRA) to confirm who he has spoken to as a part of the review process.
He supplied a list to campaigners and others, which has sparked further concerns.
But, in July and August, Mr Dorfman said he was asked further reasonable questions by Linda Wardlaw/Blakelands Residents Association and Andrew Herman.
"They directed me to further relevant information and suggested further contacts for me."
A spokesman for the BRA said: "We are deeply concerned that he has still not spoken, or made contact, with key individuals who were involved in the planning application for the warehouse, the decision notice and the events that followed afterwards."
This, the spokesman added, means "The report will be a complete whitewash and it won't answer our many questions.
"Marc Dorfman does not want to criticise anyone."
Residents are also concerned that people may think that delays were because they supplied information late in the process.
"We're being accused of giving him new information/contacts which is complete nonsense. We gave him all of this well over a year ago now," said the spokesman.
"If this information has not been reviewed or followed up, then that is not our fault. We are more than entitled to ask the same questions that we have been asking for years now."
The report will cost around £20,000 and council officers have previously told councillors that this amount will not change however long the report takes to complete.