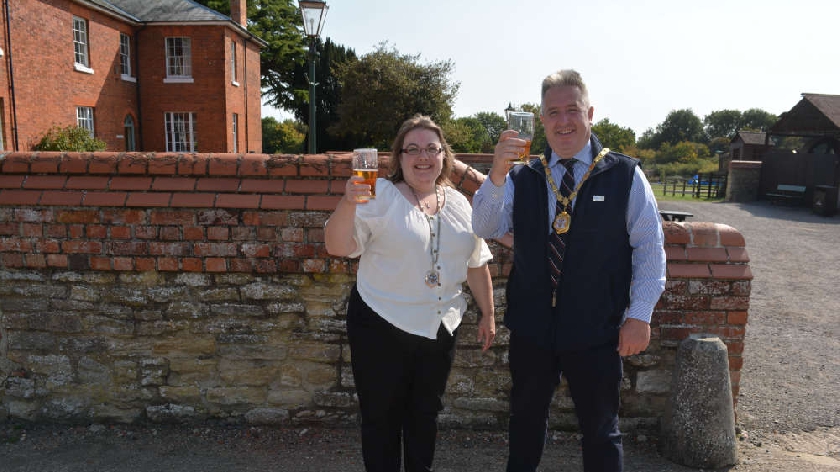 Images of last year's Mayor and Mayoress (Cllr Andrew Geary and wife Lisa) at the Beer Festival.
Milton Keynes Museum is hosting its annual Beer Festival once again this week, as part of the Heritage Open Days events.
Every year in September, places and organisations across the country throw open their doors and put on events to celebrate their heritage, community and history.
It's your chance to see hidden places and try out new experiences – and it's all free.
This year, as part of the events, there will be lots of opportunity to enjoy a pint or two with family and friends with a great selection of real ales and ciders on offer, and the Granary Tea Room will serve a selection of snacks to take care of any hunger pangs.
You might prefer a bacon sandwich from the caravan close to where the beer is being served. Conveniently, the price of a bacon sandwich or a pint of beer is the same - just £2.50.
Among those names tempting you to have 'a swift half' will be Wagtail, Tiffield Thunderbolt, Black Hole Mily Way and Lilleys Rum Cider.
Visitors can purchase their drinks from the Street of Shops and then visit the Museum's pleasant and spacious courtyard and gardens where the sun will hopefully shine.
If it's wet and dreary, it's no problem – you'll be able to drink under cover.
Pop along and enjoy a leisurely time during one of the last days of summer, and with admission fees waived for the four days to celebrate Heritage Open Days, it is the perfect time to enjoy an introduction to the many attractions the Museum has to offer.
It's also worth remembering that if you purchase a ticket to support the Museum you can return as often as you like throughout the year.
Don't forget the Museum is currently hosting three temporary exhibitions too; 'Milton Keynes – Wired For Sound,' 'We Are Milton Keynes, Too' and ECOS: Women in Sport can be found in the new gallery.
Beer Festival opening times: September 16-19, 2021, 11am – 4pm (Thurs/Fri) 11am – 5pm (Sat/Sun)
All the latest Museum news can be found on the new website.