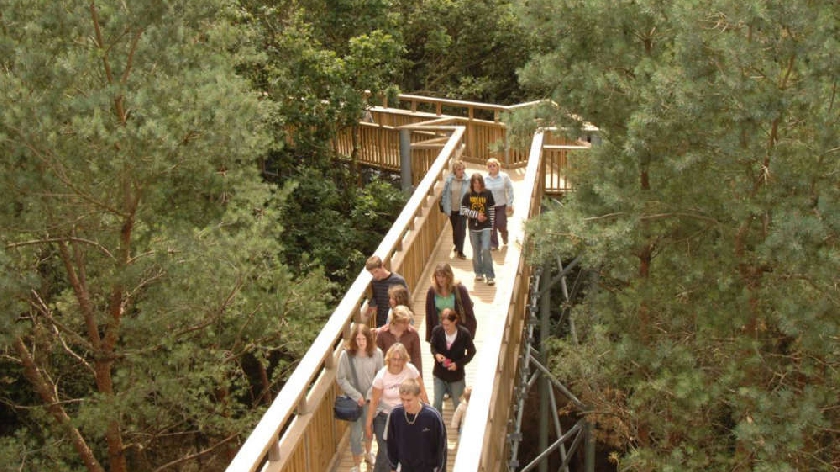 The Tree Top walk at Salcey Forest is set to be permanently removed after closing back in 2018.
In a statement from Forestry England, it has been announced that a popular walkway at a forest popular to Milton Keynes residents is being removed.
The Tree Top Walkway at Salcey Forest, in the village of Hartwell, between Northampton and Newport Pagnell, closed back in 2018 due to serious safety issues.
Forestry England says that the true cost of fixing and keeping the walkway going exceeds the funding they have access to and instead they plan to develop the area with a new visitor space.
The statement announcing the news reads: "We have had to make the difficult decision to remove the Tree Top Walkway at Salcey Forest, which has been closed since 2018 because of serious structural safety issues.
"We have spent considerable time investigating and weighing up the options of repairing it, as we genuinely believed we were going to be able to repair the walkway and extend its life for another 10 years. Our initial estimates, that were based on preliminary inspections from specialists backed up this hope.
"However, having had detailed structural inspections undertaken, and accurate costs supplied, we now know the true cost to repair the walkway for an additional decade is in the region of £1.7million, with additional costs to maintain it during the extended lifespan. This figure vastly exceeds the funding available to us, and even if we could spend that amount of money at Salcey Forest (or other forests in the area) we believe we could invest in better ways for visitors long-term than focusing on the walkway.
"Instead, we will use the opportunity to redevelop the area where the Tree Top Walkway currently stands as part of a £240k investment into the site, to create a new visitor space called The Glade. By planting new shrubs, trees and a wildflower area, and creating a new winding, all-ability path with seating and a covered activity space, The Glade will become a destination where visitors can spend time enjoying this beautiful part of Salcey Forest.
"We know the Tree Top Walkway has warm memories and associations for many people who have loved visiting it for a bird's eye view over the tree canopy and understand how sad many will feel. However as disappointing as this news is, the reality is that repairing and maintaining timber structures – particularly outdoors – is only effective for a limited time before parts have to be replaced.
"We hope you continue to value Salcey Forest as a fantastic place to visit and experience the many benefits of being out in nature."
Plans for the area have been announced, you can find out more here