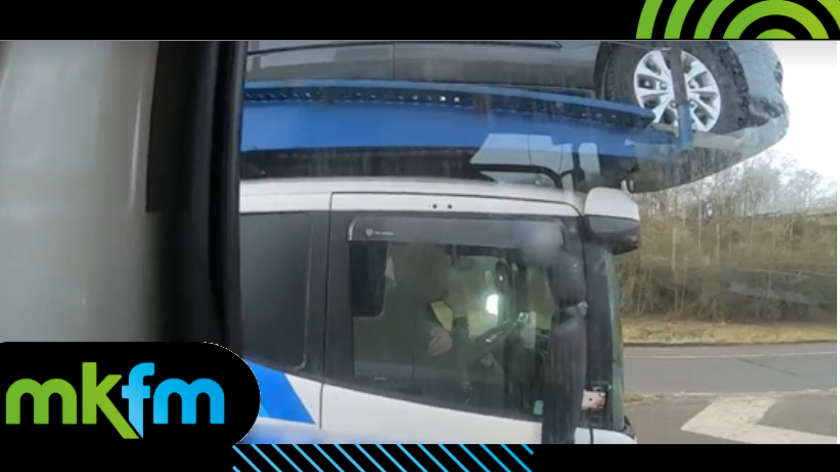 Image: National Highways, driver using his elbow to drive this transporter on the M40
Officers will be patrolling the M1 in unmarked HGVs this week, looking out for incidents of illegal driving. 
Thames Valley Police officers are joining 7 other forces in patrolling the M1 between London and Leeds this week (Monday 6 March to Sunday 12 March).
Using unmarked HGV's, officers will be able to spot unsafe driving behaviour from the HGV cab.
The work is part of Operation Tramline which has seen 33,254 offences have been recorded since being launched by National Highways in 2015.
Drivers can face court summons, arrests, fixed penalty notices or warnings dependent on their offence.
National Highways Head of Road Safety, Jeremy Phillips, said: "We are committed to reducing the number of people killed or seriously injured while travelling on our roads by 50% by 2025 and we have a long term ambition for zero harm. To achieve that we need to tackle the unsafe driving behaviour that we sadly still encounter.
"Hundreds of thousands of drivers use our roads every day and the vast majority are sensible behind the wheel but some are putting themselves and others at risk. Through this week of action we want to encourage motorists to think about their driving and to adopt safer behaviours.
"But those who continue to pose a risk should be aware that we are working with our police partners to make sure they are spotted and prevented from causing serious harm to themselves or others."
As well as HGV patrols, there will also be vehicle checks taking place at service stations, with the chance to receive advice from partners.
National Police Chiefs' Council Lead for Roads Policing Operations, Commander Kyle Gordon, said:
"We are pleased to be working with our key partner National Highways once again as we work to reduce the danger caused on one of our busiest roads, and beyond, by drivers who allow themselves to be distracted while driving. Too many people are killed or seriously injured on our roads every year. My officers have to visit the families of those killed on our roads, 5 times a day, every day of the week and every month of the year. I am very happy to support all initiatives that can help reduce these numbers."