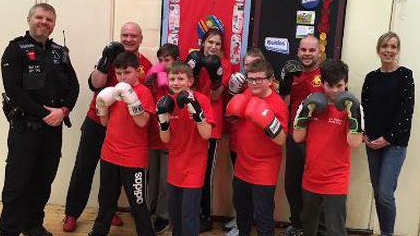 To help tackle anti-social behaviour in the New Bradwell area, a new youth club has been set up by Thames Valley Police with New Bradwell Parish Council
After identifying a problem with youth-related anti-social behaviour (ASB) in the New Bradwell area, the Milton Keynes neighbourhood team explored possible ways to resolve the issue. PC Adrian Cafe decided to go directly to the youths themselves for a solution and they felt a boxing club would be beneficial for them.
After endorsement from New Bradwell Parish Council, plans for the club began and young people in the area were involved every step of the way including designing banners, setting club rules and identifying potential members.
The new club held its first meeting on Friday 23 February with boys and girls aged between 12 and 18 trying their hand at boxing. For now, new members are referred by the Neighbourhood Police team and the Parish Council. Membership to the club is free, making it accessible to all in the local area.
The daily running of the club is being managed by Tony Castleton and Danny Evans who have years of experience in running youth boxing clubs and have kindly provided the equipment. The club will take place from 6-7pm on Fridays at the New Bradwell Community Centre.
Following the first meeting of the club PC Cafe said: "It is inspiring to see so many young people taking part in this new club that they have helped to create. The sport and involvement in producing something specifically for them has encouraged these young people to spend their Friday nights participating in group activities and staying fit and healthy, directing their energy to something positive."