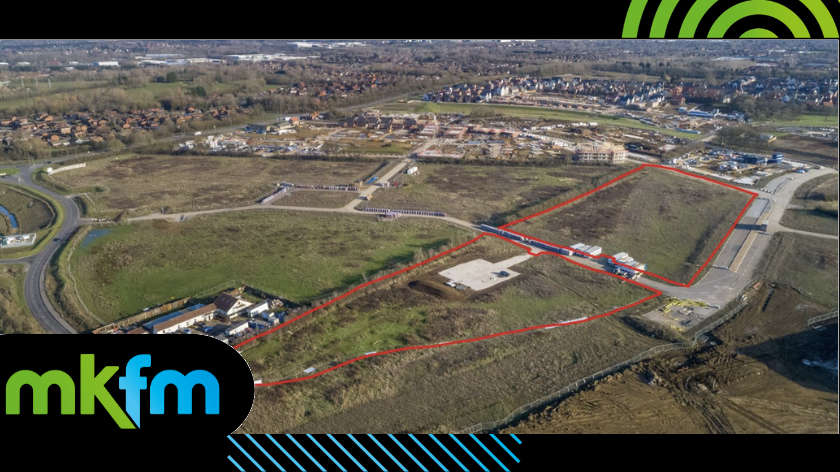 A drone image of the two latest parcels of land to be acquired by Bellway Northern Home Counties at Whitehouse Park
Bellway are set to build another 139 homes in Milton Keynes after acquiring two more parcels of land.
Two parcels of land at Whitehouse Park in Milton Keynes have been purchased by housebuilder Bellway from L&Q Estates.
Located on land east of Calverton Lane and north of Shetland Drive, the development plans will see the construction of 139 new homes featuring 42 new affordable homes, including a mix of one and two-bedroom apartments and two, three and four-bedroom houses.
A detailed planning application for the site was submitted to Milton Keynes City Council in September last year and a decision is expected later this year.
Bellway's latest land acquisition follows the purchase in 2021 of five other land parcels at Whitehouse Park on which it plans to build 450 homes.
Construction work on the first phase of 175 properties began last summer, while construction work on the second phase of 275 homes – which are to be built under Bellway's Ashberry Homes brand – began in February this year.
Bellway's development is part of the wider Western Expansion Area of Milton Keynes which has been earmarked to deliver a total of 6,500 new homes and a range of community facilities, including Whitehouse Primary School, Watling Academy, and Whitehouse Surgery, which are all now open.
Paul Smits, Managing Director at Bellway Northern Home Counties, said: "The acquisition of these two new parcels of land will enable us to build on our already considerable commitment to delivering much-needed new homes at Whitehouse Park.
"We have formed a strong and effective relationship with both Milton Keynes City Council and L&Q Estates while working on this ambitious project, and we are pleased to be expanding our role in the creation of this fantastic new neighbourhood on the edge of Milton Keynes.
"Our plans for this latest phase of development at Whitehouse Park include 97 properties for private sale, as well as 42 affordable homes, which will provide a mix of social rent and shared ownership homes as well as low and reduced cost properties for sale.
"Just over half of the homes will be apartments, making this phase of the development particularly suitable for first-time buyers.
"With a detailed planning application already with the council for consideration, we are expecting a decision on our plans in the spring/early summer time. Subject to approval, we hope to start construction work on the site later this year."
Adrian Clack, Managing Director at L&Q Estates, said: "We are delighted to be working with Bellway Homes at this site which is really gaining momentum.
"L&Q Estates has been involved in this area of Milton Keynes as master developer for over 20 years and it is fantastic to have played a part in creating much-needed homes for families.
"This sale of plots of lands adjacent to Calverton Lane and Watling Street will create a real focal point for the community."
As part of the planning agreement for this latest phase of 139 homes at Whitehouse Park, Bellway will be contributing £3.6 million towards local services and infrastructure via the council through the 'Milton Keynes Roof Tariff'.
The news comes after last week, it was announced that Three parcels of land, around 16.7 acres worth, had been purchased by housebuilder Crest Nicholson from L&Q Estates.
The development plans will see the construction of 280 new houses, ranging from one to five bedrooms.
Work is expected to be completed by the end of 2026 and will eventually connect to Tattenhoe Street.
For more information about Whitehouse Park and Bellway, click here or call 01908 036 774.