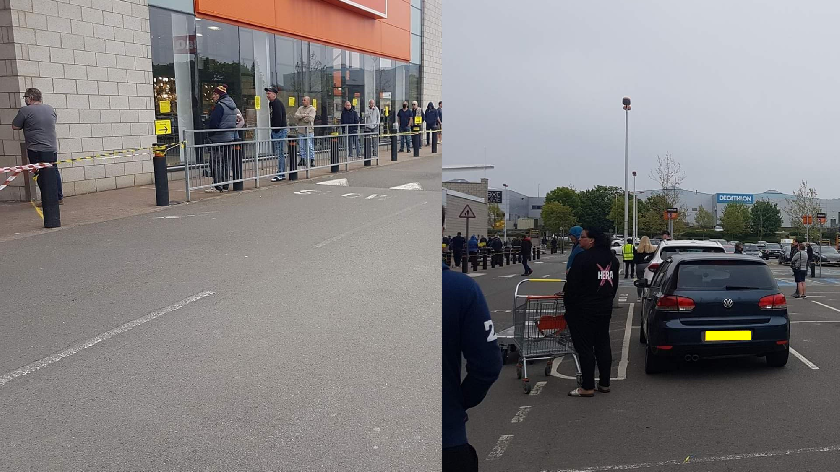 Huge queues of people have been seen outside B&Q in Milton Keynes despite government advice for people to stay at home due to the coronavirus.
The DIY retailer re-opened 155 of its stories this week, including the outlet in Rooksley in Milton Keynes.
Hundreds of shoppers were seen in the car park and queuing to get into the store yesterday morning.
Government officials have classified the DIY store as 'essential' and therefore it is allowed to open despite the lockdown.
Social distancing measures have been put in place in the store.
B&Q has also temporarily stopped services such as kitchen and bathroom design, paint mixing, timber cutting and key cutting.
But yesterday the Home Secretary Priti Patel asked people to continue to follow the 'stay at home' guidance amid concerns that growing numbers of people are relaxing their approach to lockdown.
She said: "Our instruction remains clear: people should stay at home, protect the NHS and save lives."
A B&Q spokesperson told The Sun: "As an essential retailer, we're committed to providing the best possible service to support customers' home improvement needs at this difficult time, while keeping customers and colleagues safe."
"Having watched other essential retailers support social distancing in their stores, we are now following their best practice and are re-opening some stores with strict social distancing measures in place."
"Similar to shopping at a supermarket, we're strictly limiting the number of customers in store at any one time, and so customers are typically queueing before entering stores."
"All stores have a designated queuing area outside and these have two metre markers to help remind everyone to respect each other's personal space."
READ MORE: Hundreds queue for coronavirus drive through testing in Milton Keynes