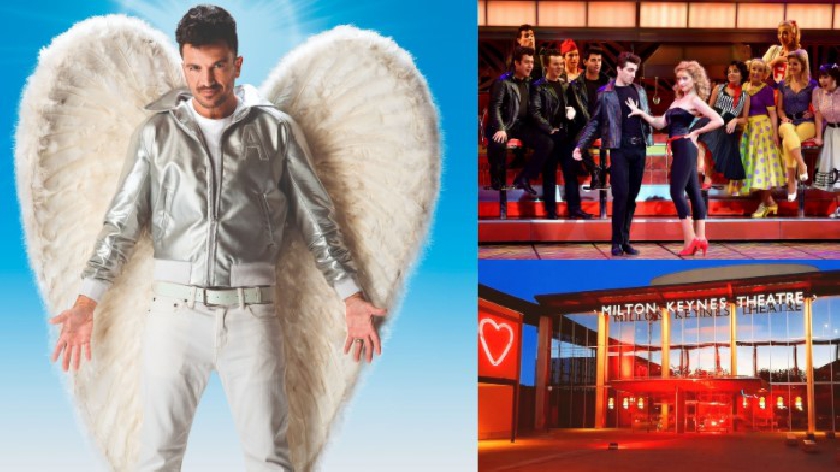 Milton Keynes Theatre has revealed the four dates that pop star Peter Andre will be performing in the production of Grease next month.
The heavily-anticipated musical, which brings the 1978 movie and its soundtrack to the theatre stage, will be at the local theatre from August 23rd to August 28th.
And following his success starring in the UK and Ireland tour in 2019, Peter Andre will star in the 2021 production. As well as reprising the role of Teen Angel, Andre will also play Vince Fontaine.
Milton Keynes Theatre has said that he will be performing on Monday 23rd, Tuesday 24th, Wednesday 25th, and Friday 27th August. He will not appear in the Thursday 26th and Saturday 28th shows.
Peter Andre said: "I was so thrilled to have been returning to Grease this year as I had the most wonderful time on the last tour working with our incredible cast and creative team, I can't wait to get back out there performing with them.
"Grease is joyous and will truly allow you to escape to a different time, with show-stopping dance routines and some of the most iconic songs of all time. It's a show about solidarity and it celebrates friendship, which is even more important now with how the last 12 months have been. As the song goes, We Go Together!"
Dan Partridge will be reprising the role of Danny, having played the role on the UK and Ireland tour in 2019. Georgia Louise will play Sandy, with Paul French as Kenickie and Tendai Rinomhota as Rizzo. They are joined by Alex Christian as Doody, Josh Barnett as Roger, Inez Budd as Marty, Maeve Byrne as Jan, Marianna Neofitou as Frenchy, Corinna Powlesland as Miss Lynch and Cristian Zaccarini as Sonny.
Grease has been choreographed by Arlene Phillips, a former Strictly Come Dancing Judge, and directed by Nikolai Foster, who has worked on many critically-acclaimed theatre productions.
Tickets for Grease The Musical are on sale now, and you can get them here.