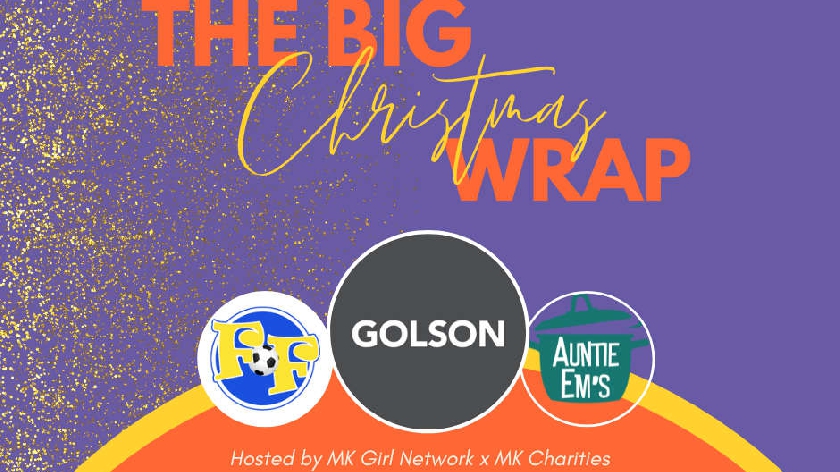 MK Girl and MK Charities are launching 'The Big Wrap', a networking event to help raise funds for over 1,000 gifts for children.
On Thursday 15th December, at MK: U Innovation Hub, MK Girl and MK Charities will be hosting The Big Wrap - a unique networking event for members of the Milton Keynes community and local businesses to come together, raise funds and help to wrap over 1,000 gifts for children, who may otherwise go without.
Working in collaboration with Football Fun Factory, these gifts will be given to children who attend the holiday club between the 19th and 23rd December.
Those who join can expect lots of festive fun, food, drinks and music whilst showing support for a fantastic cause.
This winter, Football Fun Factory, a company which uses football as a vehicle for child development, are running a holiday club where over 120 children per day will be in attendance across the five days. With more and more children facing food poverty, Football Fun Factory has enlisted the help of Auntie Em's Kitchen, to ensure that each child will have access to a hot meal, each day they attend.
On 23rd December, Football Fun Factory will be kicking off the Christmas celebrations early with a festive turkey feast with all the trimmings, complete with crackers and tinsel, and each child will be gifted their very own Christmas stocking.
Organisers are looking for sponsorship to help towards the cost of the gifts, donations as small as £10 for your tickets to attend the event with welcome drink and pizza will make a difference.
There is also a bottomless option available with pizza, prosecco, mulled wine and mince pies for just £35!
The Christmas stockings will be a great opportunity for local businesses and members of the community to come together in the season of good will.
All money raised will go to cover the food supplies for the MK Kids Christmas Campaign and any additional monies raised will be donated to St Mark's Meals – a local charity that helps those facing food poverty.
Charlotte Moyle, MK Girl and CEO of MK Charities: "To get involved with The Big Wrap buy a ticket, come along, and help wrap the gifts and network with other likeminded businesses."