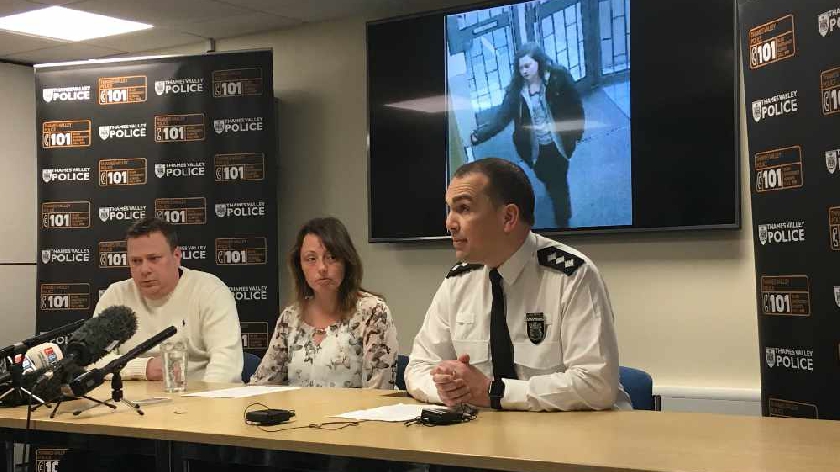 The parents of missing teenager Leah Croucher from Milton Keynes have spoken to the media today.
It comes alongside news that a £5,000 reward has been put up to find her.
Leah Croucher was last seen in Buzzacott Lane, Furzton, Milton Keynes, just after 8.15am on Friday 15 February. She was walking in the direction of Loxbeare Drive and Chaffron Way.
Leah's family last saw her in Quantock Crescent, Emerson Valley, Milton Keynes, at around 10pm on Thursday 14 February. Her family reported her missing the following day (15/2).
An anonymous donor has now offered a £5,000 reward to anyone who provides information that results in Leah being found.
The following statement is issued on behalf of Leah's parents, Claire and John Croucher: "We are the parents of Leah Croucher. Leah has been missing now for 33 long and agonising days.
"Despite the extensive efforts of the police searches which at times have involved over 100 officers and volunteers.
"Despite over 120 of our family and friends, who have handed out leaflets over three weekends as far afield as London and Birmingham, there have been no further confirmed sightings of Leah.
"Despite extensive police appeals, our previous press conference, shares and retweets on social media from family, friends, complete strangers and celebrities alike.
"Despite over 200 of you, the public, calling in, there have been no further confirmed sightings of Leah.
"Her posters are on buses, trains, taxis and at various locations around the country. There is even a poster in the main train station in Berlin. Australia knows my daughter is missing. But still no further confirmed sightings of Leah.
"She has just literally vanished.
"We believe that somebody in Milton Keynes knows where Leah is. We need that person to call 101 and tell the police where to find her.
"We have received so much support from the public already, including The MK Dons at their home games and Asda printing her poster in large to display in their store.
"From the people who spent the day in the cold and rain handing out leaflets to generate some of the 200 calls received so far, we are so grateful to every single one of you. So many of you have already gone above and beyond to offer help to us in one way or another.
"Now one kind angel has offered a £5,000 reward for information leading to finding Leah. We are beyond grateful for this extraordinary generosity.
"There will be large banners appearing at strategic locations across Milton Keynes this weekend which will be advertising the £5,000 reward.
"More of the smaller posters will be appearing on more housing estates this weekend thanks to our army of helpers.
"We are not going to stop.
"Please, I am speaking to that person or persons out there who will start the trail to find our beautiful Leah, there is now a £5,000 reward. Pick up the phone and do the right thing. Call 101. Tell us how and where to find our daughter. Please. We need to know if she is alive or dead. Please call 101."
"Leah, if you are watching this please come home. We miss you so much. If someone or something has upset you we can sort it out together as a family. Please come back to us. Your dad and I are worried sick about you. Everyone is. We want you here, safe with us. We just want to give you a big cuddle. Come home please, we love you."
Chief Inspector Neil Kentish said: "The £5,000 reward, which has been offered by a local donor, is significant and shows the level of affection the community has for Leah.
"Frankly, our officers who are investigating Leah's disappearance have never dealt with a case like this before. It is extremely rare for someone to go missing without leaving a trace, but this is what has happened to Leah.
"It is clear the devastating impact that Leah's disappearance is having on her family and friends. I still believe someone has information about her whereabouts but for some reason they have not provided that information to police. I urge you to do the right thing and come forward.
"You can leave information via our dedicated website for this investigation, which is https://mipp.police.uk/operation/43H218A55-PO1/ call 101 or visit a police station, quoting investigation number 43190049929.
"Today we are releasing two new photos of Leah. She is white, slim, with below shoulder length brown hair and sometimes wears glasses. Leah was last seen dressed in a black coat, skinny black jeans, black Converse high top shoes and carrying a small black rucksack.
"Enquiries show that Leah is known to take a number of different routes to work through Furzton. She has been known to walk via Shenley Lodge and Faraday Drive and we know she took that route on 13 and 14 February. However, on 15 February Leah does not appear on CCTV cameras in Faraday Drive.
"We know that Leah takes the route around Furzton Lake, more often to the Bilbrook Lane side on the west side of the lake, but also occasionally to the eastern side of the lake.
"Were you in the Buzzacott Lane, Dulverton Drive, Furzton Lake, Loxbeare Drive, Bilbrook Lane, Redwood Gate or Knowlhill between about 8am and 12pm on 15 February? If you were please think about whether you saw anyone matching Leah's description, or if you have any dashcam, mobile phone or CCTV footage from that day.
"There are a number of potential sightings of Leah across the country that are still being investigated, but at this time the last time Leah was seen was in Buzzacott Lane just after 8.15am on Friday 15 February.
"Finally, I want to appeal directly to Leah. Leah, if you are watching or listening to this appeal, please contact police or your family so we know you are safe. You are not in any trouble. We just want to know that you are ok and to support you. We will listen to you and respect your wishes. Please contact us."