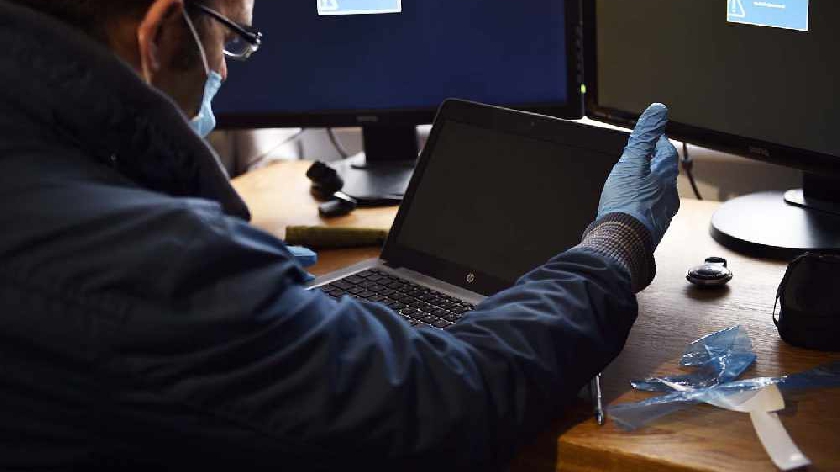 Devices being seized by Thames Valley Police
Police have conducted several warrants in Milton Keynes to combat online child sexual abuse, and have made subsequent arrests.
Thames Valley Police continues to receive referrals from the National Crime Agency and other law enforcement agencies relating to people suspected of accessing child abuse material online.
Online sexual abuse can happen on any platform, including gaming channels and social media sites, and could involve children being tricked by people to send sexual photographs, messages, or even agreeing to meet.
In recent weeks, Thames Valley Police officers have been carrying out warrants designed to combat this activity as well as carrying out safeguarding visits.
Police officers have visited twelve residential properties across Buckinghamshire as part of the warrants, and three of them were here in Milton Keynes.
Detective Inspector Jon Axford, from the Paedophile Online Investigation Team (POLIT), told MKFM: "There were warrants carried out, some people were arrested and we seized devices and [will] examine those devices to see if there is any evidence on them, such as indecent images of children or any evidence of that offender communicating online with children.
"Very often these warrants are the tip of the iceberg; we get a bit of information that gives us the grounds to arrest somebody, and when we examine the devices we discover a higher level of offending and they might have been offending for some time."
Sadly it seems that lockdown has escalated this type of behaviour, as Thames Valley Police say that its referrals from the National Crime Agency have risen by 93% in the past 12 months when compared to the same time period in 2018-2019.
With more and more people currently at home and online due to coronavirus restrictions, the POLIT team has worked to combat those who are looking to exploit this in order to abuse children.
Detective Inspector Jon Axford added: "During the first lockdown last year, there was a well-documented rise in this sort of offending.
"Sadly, we know that there are a number of criminals out there who have tried to take the opportunity afforded to them by the fact that more people are online to sexually exploit children.
"These offenders come from a variety of different backgrounds and situations. Many of them have families of their own, who have no idea whatsoever as to their offending."
Thames Valley Police takes a zero-tolerance approach to online child sexual abuse and has a hard-hitting message to those involved.
Detective Inspector Jon Axford warned: "These warrants should serve as a warning to anyone who thinks that this sort of offending is harmless and without consequence. It isn't. We know exactly who you are, who you are talking to, and we will come to your house and arrest you, in front of your family and loved ones if necessary.
"These warrants are also not a one off. We are constantly monitoring the intelligence we receive and we have an extremely good understanding of who is committing this type of offence."
During the MKFM interview, Detective Inspector Jon Axford discussed how children may also unknowingly take inappropriate photographs of themselves and post them online, or send them to friends. He said that there have been instances of this happening to children as young as five or six years-old.
He said that parents should be aware of what their child is doing on their devices to help keep them safe.
"It is very easy to give a child a tablet or a phone to a child and leave them to it for a while. You really do need to have that relationship with your child where you know what they are doing online, asking them questions, making them aware of the dangers of being online.
"Having that openness with their child [is important], so if their child finds themselves in a difficult position where maybe they are being contacted by somebody they don't know, the child is confident enough to come to you and talk about it."
Thames Valley Police works with the Lucy Faithfull Foundation to prevent online child sexual abuse and support the families of those who are identified as offenders. Their Stop It Now campaign provides free, anonymous and confidential support.
If you are concerned for the safety of a child, call Thames Valley Police on 101, or the NSPCC helpline on 0808 800 5000.
If you are concerned about the sexual behaviour of an adult or a child, call 101 or the Stop it Now helpline on 0808 1000 900.