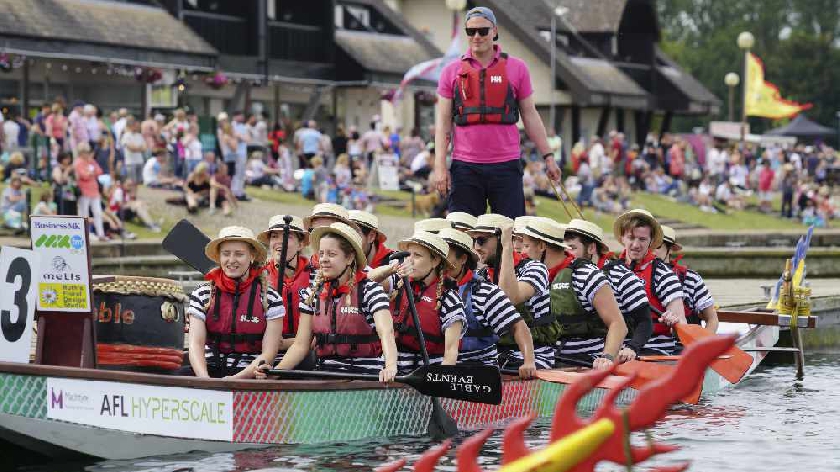 The 18th Milton Keynes Dragon Boat Festival takes place this Sunday 23rd June at Willen Lake, MK15 ODS, with the first race commencing at 11am.
There will be three rounds of heats giving all 35 dragon boat teams a chance to compete for the semi-finals and then it's down to the final at approx 3.50pm to battle for the title of Milton Keynes Dragon Boat Festival Champions 2019.
Following shortly after, the winners will be crowned with a presentation of trophies, medals and bouquets of flowers, courtesy of Ruth's Floral Design Studio. There are also three other prizes up for grabs; for the best dressed team, the best-placed mixed crew and the team raising the most money for MacIntyre, the Festival's charity partner. The team that fund raise the most will receive a special prize meal for all the crew at Melis, an award-winning Turkish restaurant situated near the Central Hub in Milton Keynes, kindly sponsored by Merinvest.
In addition to the spectacular dragon boat races which will take place every 10 minutes throughout the day, there will be a variety of activities for all to get involved in including a fun fair, children's rides, food stalls, a wheelbarrow full of raffle prizes and a spectacular flypast from a Battle of Britain Lancaster Bomber at approx 2.10pm (subject to any weather or operational restrictions).
Head of Fundraising Claire Kennedy says "MacIntyre is proud to be the official charity once again for the 2019 Milton Keynes Dragon Boat Festival. It has been great to meet so many of the teams over the past few months and we are excited to find out who the winners will be this year, thank you for supporting MacIntyre with your fundraising. Every penny raised at this event will be used to benefit people in the Milton Keynes area".
The Festival is free to spectators and ample 'pay & display' parking is available at Willen Lake, V10 Brickhill Street, Milton Keynes, MK15 0DS
For further information, please visit: www.dragonboatfestivals.co.uk/miltonkeynes or call Gable Events on 01780 470 718. For information about MacIntyre, visit www.macintyrecharity.org or call 01908 230100
We look forward to seeing you there!