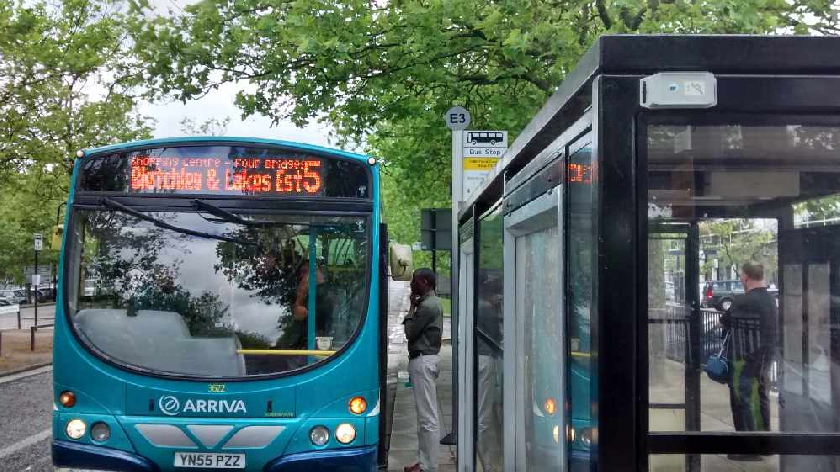 Over 65s are being asked not to use buses before 9.30am on weekdays to make more room for employees and students.
Milton Keynes Council is set to remove discretionary arrangements, which allow older people in the city to travel for £1 per single journey around the city before 9.30am.
They will either have to pay full fare or wait until after 9.30am to use passes for free travel under a national concession scheme.
"My nan goes out at 8am on Wednesdays, it's her habit," said Cllr Lauren Townsend (Lab, Bletchley West).
"But we have to ask older people to adjust their habits and use the socially distanced buses after 9.30am to give priority to people travelling to work and students going to education."
Cllr Townsend, who is the cabinet member for community safety, also says it will save the council money at a time when its budget has been badly affected by covid.
She is due to formally make a series of decisions at a meeting next Tuesday (September 29) to extend some 26 current bus route contracts until next March.
But background papers to the meeting make it clear that bus operators may not chose to agree to the extended contracts and this may bring some of the routes to an end.
The council is working on helping people affected by setting up a system of "demand related transport" (DRT).
Under the scheme, members of the public would be able to book travel, much like they would with a taxi, but have a much smaller vehicle pick them up.
It would use technology to plan routes to pick people up and take them to destinations.
And from April next year the council is working on replacing most of its subsidised services with DRT.
Underlying it all is a catastrophic loss of income from car parking charges, which at the height of the pandemic saw the council's income crash from £250,000 to just £11,000 in a month.
It is not expected to pick up to anything like the level it was.
Cllr Townsend said she understands the impact a loss of bus services could have on people.
"I know I have residents in Bletchley West who rely on bus services, including a single mum who works at Primark," she said.
"And we know the importance of a good public transport infrastructure, which is why we have been subsidising services."
The report to Cllr Townsend from from Adele Wearing, the council's strategic lead for transport, is also anticipating that bus operators will fight planned cuts in the amount of money they are due to receive.
She says: "It is anticipated that operators may choose to contest any reduction with the Traffic Commissioners office.
"MK Council has notified the Traffic Commissioner and the DfT of this position."