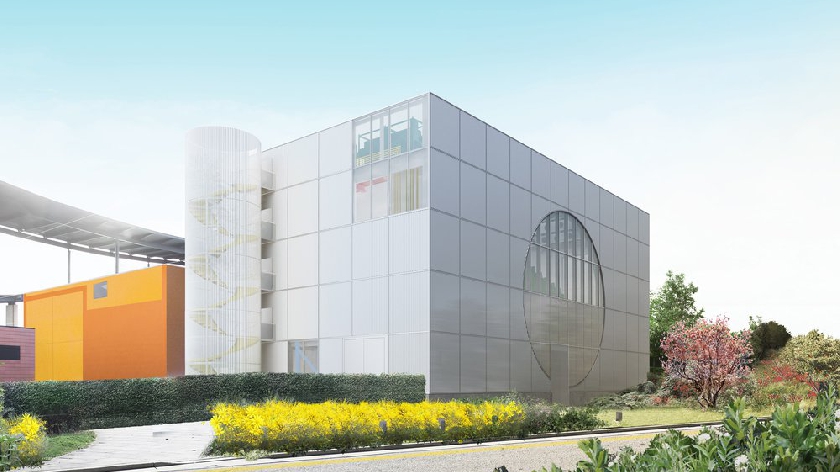 The new MK Gallery in Milton Keynes opens to the public at 11am on Saturday 16 March.
Following a major redevelopment, the Gallery will reopen with double the exhibition space of the previous building, a new multipurpose auditorium that will showcase independent film and live events, a dedicated learning studio, and a Café/Bar.
To mark the day, the Gallery is hosting a day of free events and activities.
Celebrations will start at 11am with a ribbon cutting by the mayor of Milton Keynes and families from the Gallery's learning programme. Throughout the day there'll be live dance and music performances, free badge making, face painting and bag printing, as well as a limited giveaway of MK Gallery goody bags.

11am – Opening celebrations and ribbon cutting with the Mayor of Milton Keynes*
Throughout the day – Free badge making, bag printing and face painting in the Learning Studio
12.00pm - Pagrav Dance in the Sky Room
1.30pm – MÓTUS Dance in the Playscape
2.30pm – Street performance 'Pockets of Resistance' by Rost Productions in Margaret Powell Square
3pm – Tea Party with drinks and cake in our new Café/Bar

From 4pm in the Sky Room Auditorium:
4pm - Sian Magill with Nicole Collarbone. Contemporary indie folk singer and cellist
4.45pm - Togmor. Longstanding MK folk rock legends
5.30pm - Secret Flight. Soviet film soundtrack inspired electronic music
6.15 - Adney. 'Three handsome boys from Milton Keynes'

Visitors to the Gallery will notice the striking new building that seeks to capture the original spirit of Milton Keynes, reflecting the natural world in its polished stainless-steel exterior surfaces inspired by the city's original grid and the geometries of the adjacent Campbell Park. It will provide spaces for major exhibitions both contemporary and historical, films, music, performance, family events, workshops, and social spaces, a place that puts a clear emphasis on community engagement, and access to the best of the arts.
The first exhibition in the new MK Gallery will be The Lie of the Land. This ambitious exhibition features works by over 85 artists including Canaletto, Rachel Whiteread, J.M.W. Turner, Richard Hamilton, Bridget Riley, L.S. Lowry, Jeremy Deller, Henry Moore, Thomas Gainsborough and Yinka Shonibare MBE. The show charts how British landscape has been radically transformed through changing attitudes to free time and leisure. Entry to The Lie of the Land is free.
Anthony Spira, Director at MK Gallery said "We're incredibly excited to be opening the doors to the new MK Gallery on 16th March and inviting our community to join in the celebrations. In the spirit that created Milton Keynes, the new MK Gallery, on its twentieth anniversary, aims to reinvent the idea of the art centre for our own time. Both radical and inviting, serious and playful, it is fully accessible and the kind of building where I hope everyone will feel welcome."
To find out more, visit www.mkgallery.org.