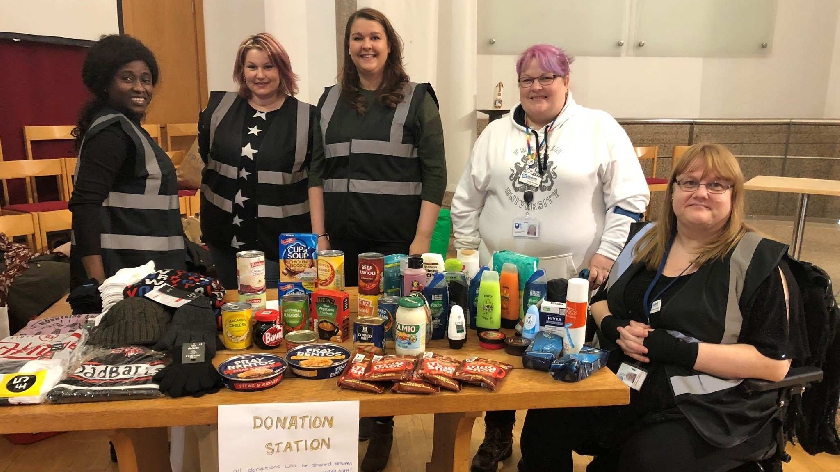 Student Volunteers for the Open University Students Association were absolutely amazed by the generosity of Milton Keynes residents at their recent Homelessness 'donate and donuts' event.
Over 100 people donated to the event, with over 1,500 items, including food, toiletries and new clothes which have been shared among local charities supporting this vital cause!
Project leader and OU student, Sarah Jones, told MKFM: "When I first came to Milton Keynes I came on the train. As you come out of the station the homelessness situation is obvious. Milton Keynes has one of the highest rates of homelessness in young people outside of London. As I'd experienced this as a younger person it started to resonate with me. I wanted to do something to help."
"I went through a situation that left me homeless. I was very lucky and was put in emergency housing as I was classed as extremely vulnerable. From this I was housed really quickly by the council and given a permanent tenancy straight away. I know just how lucky I am and how unbelievably scary and horrible my situation was. Not everyone is this lucky, and through no fault of their own can find themselves in this desperate situation."
"I met with other students and staff within my Students Association and we decided that there was something we could do to help. Rather than go in all guns blazing and not make much of a difference, we decided to do an event to raise awareness of the work that organisations within Milton Keynes are already doing to work with and support homeless people."
"This way when people come in with their donations, they can find out from the charities exactly where their donation will go and how it will be used to make life better for homeless people."
"The event was really successful and we had a great day. We were inundated with donations and these have gone to the Charites that we have worked with, including Bus Shelter MK, MK Soup Run, Help our Homeless MK and the MK Winter Night Shelter. When we went to take some of the donations to 'Help our Homeless MK' it was a real privilege to be shown the work that they are doing and how the donations will make a difference."
"Thank you to our team of student volunteers, and to everyone who joined us at Christ the Cornerstone church. If you are interested in supporting those who find themselves homeless, please get in touch with the charities above, who are doing valuable work in our town!"