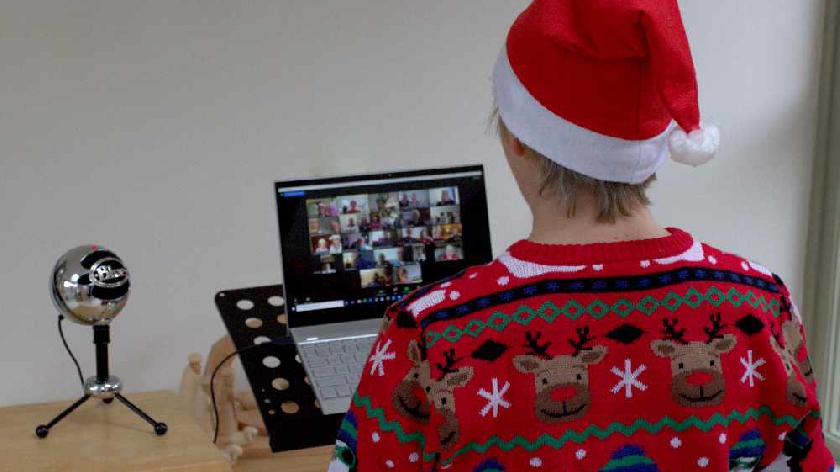 Online Singing for the Brain® sessions have been continuing throughout the Christmas period to bring together people living with dementia and their carers, from Milton Keynes.
Members of the group have been joining others from elsewhere in Buckinghamshire, Oxfordshire and Berkshire, as they meet every week to sing together virtually.
The sessions are run from home by volunteer singing leaders – everyone joins using Zoom and sings along in the comfort of their own home.
Ruth Martin, who leads the two Milton Keynes groups, said: "This is a great way to connect with people living with dementia who are cut off from their families, their communities, and the support networks they usually rely on due to the coronavirus pandemic.
"It's been great to be able to link everyone together using this technology; even though I can't hear their singing, it's lovely to see that people are joining in and having a good time. And this is so important when we can't meet face-to-face. We've had fun with Christmas songs and carols, wearing festive jumpers and hats as we'd normally do".
Peter Hurst, from the group, said: "This year has been devastating for people with dementia and their carers, with all Memory Clubs, Activity groups and Singing for the Brain sessions closing and all of losing our social contacts and gatherings.
"What a relief when we finally got Singing for the Brain on Zoom. I know it's very different and personally it took some time for my wife to adjust to the new format; like all of us, not too good with change.
"What I think is really good is that so many people have helped support us and our loved ones and given us something to look forward to during a very depressing period. Thank you."
Singing for the Brain® is a service developed by Alzheimer's Society which brings people affected by dementia together to sing a variety of songs they know and love, in a fun and friendly environment. They also do fun vocal exercises that help improve brain activity and well-being.
With more than 2,000 people living with dementia in Milton Keynes alone, the local services provided by Alzheimer's Society are vital. There are other virtual groups taking place during the week, such as Activity Groups which include quizzes, bingo and reminiscence activities helping people to stay connected during this difficult time and also virtual Carer Support Groups.
© MKFM News 2020