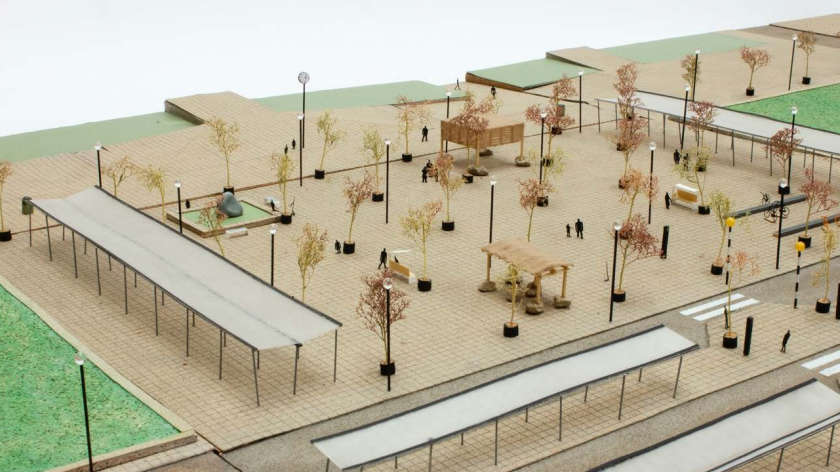 A modelled depiction of 'The Modernist Glade' courtesy of Hayatsu Architects
A new temporary public artwork by artist Tue Greenfort and Hayatsu Architects for MK's Station Square highlights the hidden communication network between trees, fungus, and insects.
Inspired by the drawings of Helmut Jacoby which were originally commissioned by the MK Development Corporation in the late 1960s to envision Milton Keynes, this new public art project builds on the city's founding modernist design principles and the radical ecological concept 'The Forest City'.
As part of the project, the two giant lawns that flank Station Square will be activated using an enhanced landscape scheme to foster cohabitation with insects. Both lawns will be planted with a variety of wild flowers to attract and support insects, which are in a fatal decline worldwide.
Within one of the lawns, a seating area will be built from recycled, locally sourced tree logs, where visitors can rest amongst wildflowers and grasses, softening the urban setting.
This space will also be the home to a second architectural structure: a cinema screen and accompanying film programme, which forms part of the project's two-year engagement programme.
The second lawn will be planted with blossoming wild flowers, buzzing with insects and bees, at the centre of which will be an experimental bee hive hosting a set of high-end and low-key technology cohabitating with bee colonies. The hive will be built using 3D printing technology emphasising the bee's fascinating swarm behaviour and communication channels.
Speaking about the project, artist Tue Greenfort said: "'I am interested in the way we see trees in the context of Milton Keynes and its urban legacy.
"Through the grid, the tree is tied to the rational spacing of Modernism, which is brought into an ecological context through the relational elements of co-existing species like fungus and insects.
"It is this web of life that the project strives to articulate, allied with modern technology, and anchored within the identity of the major tech hub of Milton Keynes."
The project's interactive nature strives to raise awareness of urgent discussions about how to reverse climate change in a positive and open way in the age of the Anthropocene, whilst also testing a greener approach to the square's extensive concrete landscape.
Through an embedded local engagement programme, Station Square will become a place where visitors are invited to rest, enjoy food and a film, but also engage in communal learning activities made by locals for locals with a global perspective.