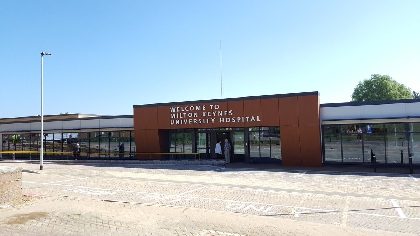 A new service has been introduced, now stroke patients can receive clot-busting drugs at Milton Keynes University Hospital - resulting in faster recovery and discharge home.
The service, which launched last autumn, has meant that 15 patients have already benefited from being treated in this way. Before then, patients had to travel to Luton & Dunstable Hospital, leading to potential delays in treatment.
On arrival at Milton Keynes University Hospital, the patient is immediately assessed and if a stroke is thought likely, they will receive an urgent CT scan to ascertain the cause of their stroke. If a blocked artery is considered responsible, a thrombolytic agent or clot-busting drug can be administered.
Stroke nurse Nina Roberts explains: 'This drug circulates around the whole body and a small amount of it will reach the blood clot and usually dissolve it. In some cases the effects are immediate – the stroke symptoms disappear, but even if no benefit is immediately obvious, we know that long term outcomes are better if this treatment has been given.'
The early results are extremely positive, with patients receiving clot busting drugs far quicker than when they had to travel to Luton and Dunstable Hospital. For patients who live in the more north-easterly parts of our area this has been critical as the journey can often take a considerable amount of time. Time is critical for these patients so a much shorter transfer to MKUH improves their chances of getting a better outcome.
One of the first patients to benefit from the service was a Milton Keynes resident whose symptoms came on suddenly and thanks to the quick-thinking of her family she was brought in by South Central Ambulance Service (SCAS). The journey to hospital took just six minutes – far shorter than a trip to Luton & Dunstable would have been. Strokes are scored by a specific tool called the National Institute Health Stroke Score (NIHSS) and on arrival the patient scored 24 which indicated a severe stroke – after thrombolysis treatment her score had improved massively to just four on the scale.
Nina adds: 'The patient did so well that she was able to walk out of hospital to go home four days later and she continued her rehabilitation in the community.'
The service is currently running from 08:00 – 18:00 Monday through to Sunday.