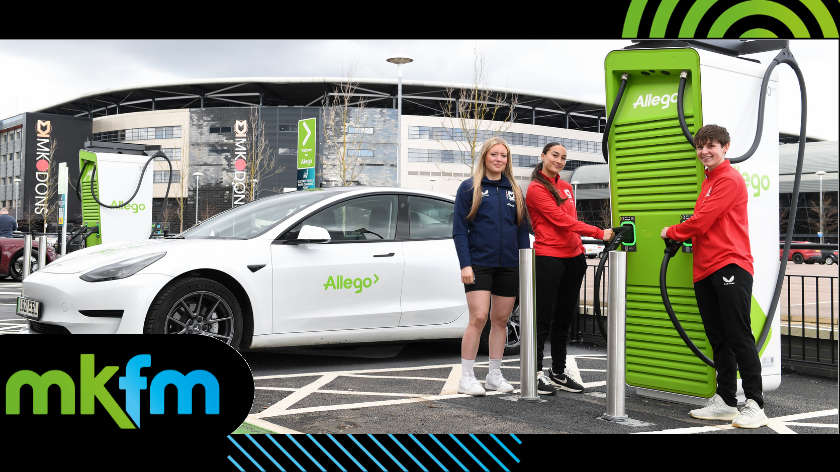 A brand new 'state-of-the-art' EV-charging hub has opened at Stadium MK.
A brand new ultra-fast charging hub has officially opened at Stadium MK in Milton Keynes.
Allego is one of Europe's leading EV charging companies, with a network of more than 40,000 charge points across 16 European countries. The new charging hub at the stadium is fully accessible and includes 6 ultra-fast charge points through 3 dual-socket 300kW chargers.
Electric car owners will be able to charge their vehicles in just 10-15 minutes and can be found next to Fitness First.
The hub will allow visitors to Stadium MK, as well as residents and passing traffic, to charge their electric vehicle whenever they need, and in no more than 10-15 minutes.
"We are proud to have worked with Stadium MK to deliver Allego's first ultra-fast charging hub in the UK. This is an important step in our future plans and a vital new piece of infrastructure to support Milton Keynes' and Stadium MK's green ambitions," Paz Sharma, Managing Director Allego UK commented.
"The new charge points can offer up to an 80% charge in as little as 15 minutes, providing a huge boost to electric-vehicle drivers on the move. Along with being ultra-fast, our charge points are flexible and fair to all users – that's why charging is open to all car types and models with no subscription fees or connection costs, just a simple tap of a credit or debit card, as well as 280 EV charge cards."
Pete Winkelman, Chairman of Milton Keynes Dons Football Club commented: "We are delighted to welcome Allego's new Ultra-Fast EV charging hub to our Stadium MK site. As part of our Stadium MK Net-Zero strategy, we are constantly striving to reduce carbon emissions and contribute to a more sustainable future for everyone.
"Stadium MK was built with accessibility in mind, and we are proud that Allego's new charging hub is uniquely designed and configured to be fully accessible to all users, including wheelchair users."