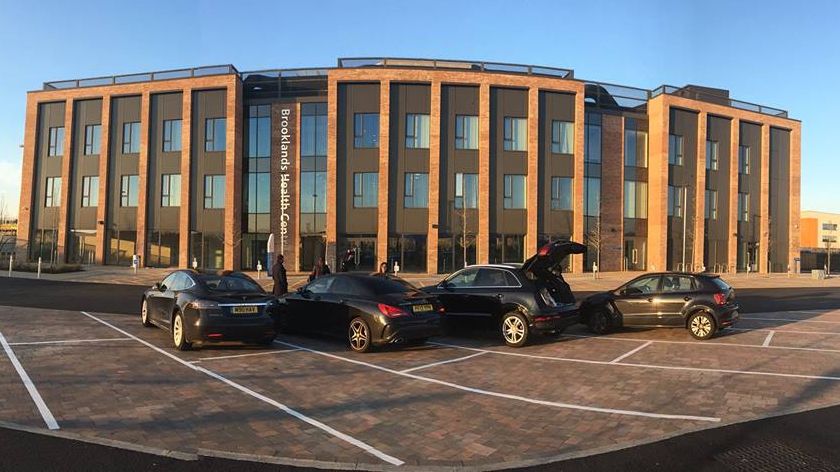 This large project was completed successfully on time and within budget working in conjunction with Hague Dental.
A well-respected dentist, Dr Uma Madhav, has opened up a new private dental practice in January inside the new Brooklands Health centre called MK Smiles.
Brooklands forms part of the Eastern Expansion Area (EEA) in Milton Keynes, where there is expected to be 2,500 houses of which around 1,100 are currently completed and occupied. The high health care needs of this rapidly expanding area will need more health care services to aid the increasing population. The Brooklands Health Centre has the capacity and will address a patient list of 22,500. The site is located within the lower southern corner of the wider masterplan, opposite they newly built Walton High School.
MK Smiles, situated on the ground floor, is dedicated to providing patients with the very best dental care, in a friendly and comfortable environment. Their ethos is centred around prevention, patient education and will work with patients to help them achieve optimum dental health. MK Smiles is a place where you are never rushed and receive the advice you need to make informed choices.
Once they have completed a comprehensive examination and consultation, they will then be able to produce a treatment plan tailored to your individual needs. They take pride in their work and aim to have happy patients with healthy beautiful smiles. Whether you come for an examination, hygienist visit or a cosmetic makeover, they will endeavour to achieve the highest standards of care.
The end result of this year long project is a 6 surgery modern dental practice with fully equipped hi-tech surgeries which surpass the latest statutory requirements. There is even a central sterilisation room, staff room, waiting and separate private consultation room.
Services offered:
Excellent overall dental maintenance via dental check ups
Restorative treatment including fillings, crowns, veneers and bridges
Orthodontic treatment for all ages including the popular Invisalign system
Dental Implants by Dr Victor Gehani
Comfortable Dentures
Tooth Whitening
Hygiene gum therapy
Root canal treatment
Dental extractions
Facial aesthetics including anti-wrinkle treatment and dermal fillers
The latest in anti- snoring devices
Clinically proven anti- grinding and clenching devices
Children and adults are welcome and encouraged to be seen by our friendly dental team, even those who are dental phobic. Uma is 'Dental Phobic Certified' and takes a special interest looking after nervous patients.
Dr Uma Madhav says, "I am so excited to open our new dental practice in Brooklands. I can't wait to meet the families of Brooklands and surrounding area. I care about the needs of the population and can't wait to start looking after their residents. Many people are not aware of how important regular check-ups are and how having a healthy mouth impacts the rest of the body and quality of life. Regular fun check-ups for children from a young age will ensure children are well educated and enjoy keeping their teeth clean and hopefully prevent any issues in the future. I have invested in the best equipment and materials as well as cultivating a caring and highly qualified team to look after the needs of my patients and their families"
Open 8:45- 5pm Monday to Friday. Visit the website or call 01908348100.
First 100 patients to book in will receive 50% off check-ups, hygiene and whitening.