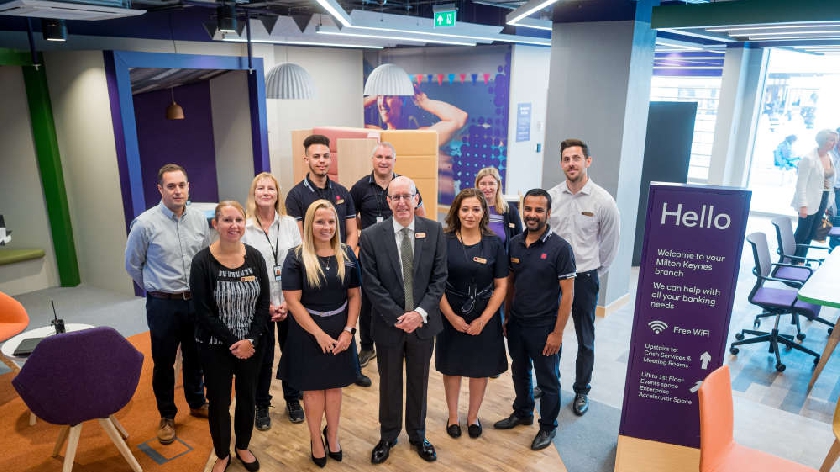 NatWest has opened a new community hub at centre:mk in Milton Keynes.
The new store features free events space for entrepreneurs, local businesses and community groups to use, as well as the full range of personal banking services and has replaced the bank's old branch in the city.
It is NatWest's fourth community hub in the country, following successful openings in Islington, Cambridge and Bristol.
Community organisations, entrepreneurs, charities and small businesses can use the new space for anything from AGMs to client meetings, with a NatWest event manager on hand to help organisations plan their events if needed, one of three new roles created with the hub opening.
Traditional banking services are all available, including cash machines and cash deposit machines and private meeting rooms for customers looking for support.
The hub opening was marked by a visit from Bruce Fletcher Group Chief Risk Officer at NatWest, who met with staff ahead of the hub's formal opening.
Bruce said: "I'm delighted to be able to visit our new Milton Keynes community hub and meet some of our colleagues who will be working here. As a bank, we champion potential, helping people and businesses to thrive and and our new hubs provide a brilliant environment to do just that."
Branch manager Natalie Litchfield said: "What is fantastic about the new hub is that as well as providing traditional banking services, it is a really vibrant, welcoming space that local organisations and entrepreneurs can use, even if they have no existing connection to NatWest. It's much more than a bank and brings a real sense of purpose, with so much potential to become a collaborative hub for both the centre and the city."
Kevin Duffy, centre:mk's Centre Director, said: "As one of the top 10 shopping centres in the UK, we are committed to providing a full and diverse offering to our guests and NatWest's community hub is a brilliant addition to our centre line-up.
"The company's commitment to environmental and social needs are closely aligned with that of centre:mk and we are proud to be supporting a dynamic space for businesses to grow further within the centre."
To encourage collaboration and community, the hub has a completely new look and feel from a traditional bank, with bank counters replaced by an open plan design, workspaces and meeting rooms.
The hub, which was designed with the environment in mind and utilises solar panels and sustainable materials, also includes an innovative 'environmental dynamics' room, a first nationally for the bank.
The light and scent in the room can be changed to create different environments, from calming to focussed, to suit the needs of the customer or event.