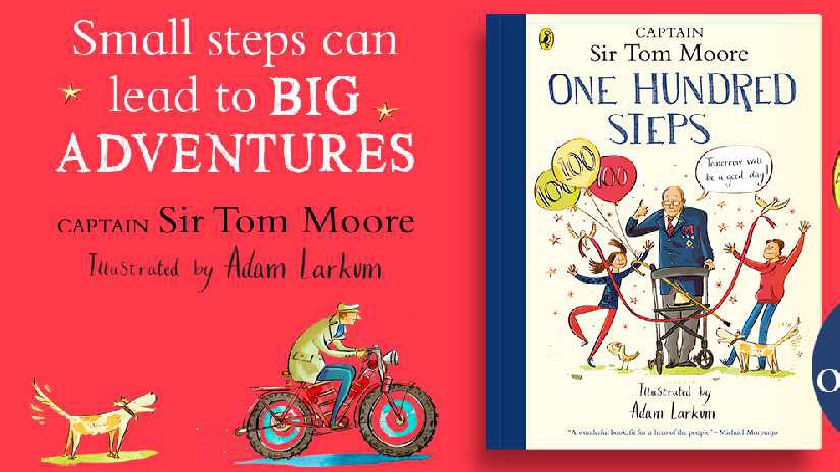 One Hundred Steps tells the story of the man who walked 100 laps of his garden whose indomitable spirit captured the heart of a nation.
One Hundred Steps, an illustrated picture book, is full of anecdotes from Captain Sir Tom's life ranging from his time in WW2 to his world record-breaking achievements fundraising for the NHS.
It will be illustrated by Adam Larkum. He said: "It's been such a pleasure to work on this book and it's been a real joy to illustrate the life story of such an inspirational man. A few weeks before I was commissioned by Puffin Books, I'd watched a TV documentary about Captain Sir Tom Moore, there were some really great photos in the documentary of his life and I remember thinking at the time how I'd love to illustrate his story. So it was such a surprise and joy when the commission came along for this book and I found myself actually working on it."
Captain Sir Tom, who lives in Marston Moretaine, became a household name in April when he completed his birthday challenge to walk 100 laps of his garden before his 100th birthday. He set himself the challenge wanting to raise £1,000 for the NHS but ended up raising way over £32m.
He has since received a knighthood, a Pride of Britain Award, had a number one single, had a bus dedicated to him, and so much more.
One Hundred Steps, which will be published on October 1st, has already been commended by famous authors including Sir Michael Morpurgo. He said: "A wonderful book, fit for a hero of the people, worthy of a great and good man who lived life to the full and inspired us all through the dark times. We just have to keep going, put one foot in front of the other, and look after one another, as he has done."