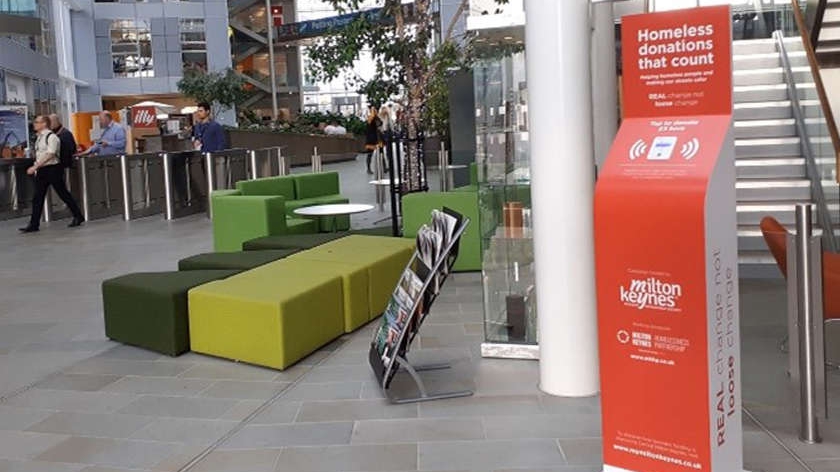 Exceeding its original 2022 target of £13,000, during the summer, MyMiltonKeynes is delighted to announce that its Tap to Donate scheme exceeded the updated annual target of £15,000.
Testament to the generosity of people within Milton Keynes, the money will go to the Milton Keynes Homelessness Partnership (MKHP) a charity which is working hard to end homelessness in the city.
In the grip of a challenging winter, with thousands facing the brutality of homelessness as the rising cost of living pushes them to breaking point, the Tap to Donate scheme continues to raise much needed funds for those in need.
Launched by MyMiltonKeynes in 2019, the nine, contactless, Tap to Donate machines are located across the city centre from the train station to Midsummer Place and the Xscape building.
Melanie J Beck MBE, Chief Executive at MyMiltonKeynes said: "To have surpassed the original annual target over the summer was a fantastic achievement. The fact that we also exceeded the revised target of £15,000 showcases the kindness of the people of Milton Keynes and the commitment to resolving the city's homeless issue.
Homelessness is a serious problem, one which charities like MKHP are working tirelessly to resolve. Last year was particularly challenging for so many people so we are hoping that the money raised will go a long way towards supporting them, and the Tap to Donate scheme continues to raise much needed funds."
Tracey McCillen, Chief Executive of Milton Keynes Homelessness Partnership, said: "What a milestone - £15k in a year! I am thrilled that the people of Milton Keynes continues to support us through Tap 2 Donate. MKHP is a network of statutory, charity and private sector organisations all working together to end homelessness across the city. These funds enable us to continue to connect the right services with each other to help individuals and families as well as reducing health inequalities and enabling access to better healthcare through outreach, or GP clinics. The donations enable us to respond to urgent situations, for example the impact of the cost of living crisis and how we can reduce the risks for those who are at risk of, or experiencing, homelessness. In short, we want to ensure the right help reaches people who are in need.
Thank you to the people of Milton Keynes, but also a big thank you to MYMiltonKeynes and the retailers who support the Tap to Donate scheme and make these donations as it is critical to enable our work to keep going."
For further information about MyMiltonKeynes please visit www.mymiltonkeynes.co.uk and keep up to date with all of the latest information from your Business Improvement District by following @MyMiltonKeynes on Facebook, Twitter, Instagram and LinkedIn.