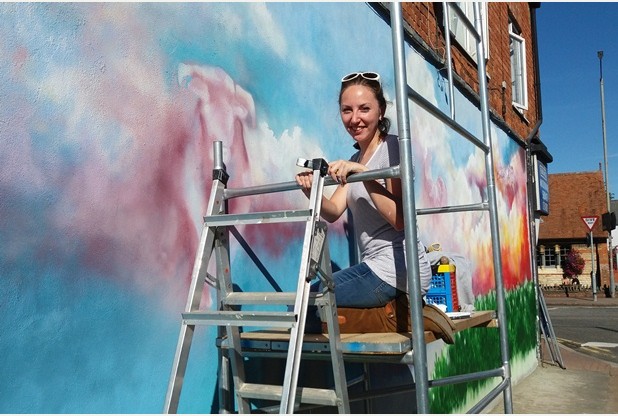 Stony Stratford's stunning new mural with be officially unveiled by Milton Keynes Mayor, Cllr Steve Coventry, on Monday.
This mural, which has been painted on the corner of Horsefair Green and London Road, was painted by Zoe Maslen, a local resident and artist and a bespoke art installation designer, working in London with a design consultancy firm.
A recent graduate in fine art from Oxford Brookes University, Zoe specializes in storytelling artwork that evolves from the narrative, personality or history of a space. Classically trained as a painter, Zoe has a creative skill set in drawing, painting, printmaking and various forms of sculpture.
In her two years out of university, Zoe has exhibited personal work in Oxford and London and been shortlisted for the Jerwood Drawing Prize.The new mural, which replaced a dilapidated artwork, has been very well received.
The mural, which will be 'unveiled' at 10am was supported by Stony Stratford Town Council, Franco Anacreonte, Icon Hotels (Luton) - the owner of the building on which the mural was painted - and Milton Keynes Council through their ward members budgets, specifically from councillors Denise Brunning, Liz Gifford and Charlie Wilson.
Article by OneMK.